>
Plugins

>
General
DJamp v2.0a
A Talking DJ for your Winamp MP3 player
A Talking DJ for your Winamp MP3 player
New Version!!!DJamp utilises Microsoft Agent and Text To Speech technology to provide an animated talking DJ for Nullsoft's Winamp MP3 Player. When Winamp finishes a song, DJamp intervenes, displays an MS Agent character that speaks a comment releasing Winamp to play the next song. The comments spoken are picked randomly or in sequence from DJamp configuration files that can be easily customised to add your own personal touch.
Download plugin
| | | |
| --- | --- | --- |
| August 24, 2000 by Don Johnson | 464960 downloads | |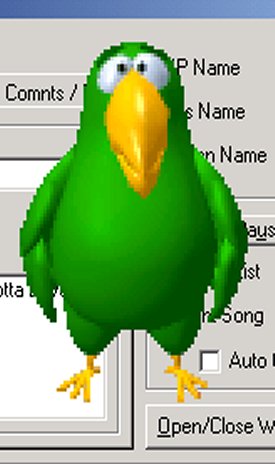 Staff review
Djamp update
This has to be the best thing I have reviewed today. Great job. Easy config. But damn is that little guy who keeps popping up pissing me off. But great for shoutcast stations. c-
Comments
Just a quick note!! - wanted to make sure users that have xp, make sure and get this -"SAPI 4.0 runtime support" - its located - http://www.microsoft.com/MSAgent/downloads/user.aspxREASON: without it the masta blasta dj peedy, will be MUTE!!In normal language what happens is the plugin runs, the text displays, he animates but no speech is heard.Other thoughts on this plugin--fully customizeable, gotta love it. Been using it for over 6 years. Found out this problem after a recent format and reinstall of xp sp3. Wouldve gotten 5.. if it autoran with winamp. - April 8, 2009 by Sydykov Hislov
---
a very low 5 stars - Ok I'll admit I have never written a review about a plug in here before but here it goes. I really enjoy these guys. They make listening to my mp3s fun and It makes me feel like I am listening to the radio they way I want it. I havent tried putting it on a live broadcast just yet but before I do. I'd would love to see it improoved to where peedyt can read news headlines, weather reports, and sports. When that happens along with giving the date I will give it a full 5 stars. - June 8, 2006 by robert locke
---
djamp version 2.3 gets 3 stars - this is a very long time but i believe it is able to be said it is out of beta as it works mostly on windows Xp it is only on win98 that has lots of troubles.. So i have Updated my work around page online for djamp.. now there is work arounds for both versions the one you download here and the new one in the yahoo msagents group...you can get to both my work around pages at my site. it had been 5 years before don did this new version so who knows if he will do another one.? my site url is http://www.angelfire.com/tx5/rovingcowboy0/keithsdownloadpage.html that is where the links to both versions pages are at. hope they help you.... and yes i am NOT in any way working with don on this i am just a beta tester of it cause i love it and the msagents. - January 21, 2006 by keith hall
---
Beta Version Update - Okay most the bugs are out of the beta version but don johnson has been called out of town on a busniess trip of unknown lenght of time. so the beta version will be a little longer in getting published...So far the beta version has fixed just about every error in the 2.0a version but there are some new bugs that cause major errors.. however the error is known by microsoft and they have posted a fix in their database of knowledge but as i said don is out of town and cant fix it yet. the beta version does work really good on the use of one msagent it seems to be having the trouble with the multiple agents options. you can still get the beta version in the yahoo group for msagents at http://groups.yahoo.com/group/agentcharactors ...........you can also make the commets over talk the songs for a short second or two. with the beta version but it is troublesome if you do it for any longer. - July 18, 2005 by keith hall
---
Petey is Cute - The adorable yet annoying parrot makes a great DJ. However, this is not without its few glitches. For one, it can't read the title of my songs... - July 13, 2005 by Justin Le
---
DJamp v2.0a - Really brill. Well done i love it. - June 29, 2005 by robert hines
---
New Beta Version in works 2.3 - the 5 stars is what i rate this new beta version i am testing as most the errors have been fixed.........................IF you download from this link you will get the version stated here..............as i am just pre posting about the new beta version don johnson is doing. he has changed the general users interface and has changed the program's engine and fixed the major bugs he has a few more in the beta one to get out yet.......If you want to get the 2.3 beta version you will need to join the yahoo group at the url i listed in my other review. please help don beta test it if you are going to get the beta version. if yo get the old release version from the link here then you should check the version 2.0 djamp help page on my site also as it has lots of bugs in it. the beta 2.3 version is not as buggy but it is still in beta testing. - May 23, 2005 by keith hall
---
ALMOST!!!! - Biggest issue I have with the functionality... If WinAMP is already running, DJ won't see it; and there's no way to start DJ FROM WinAMP, either. I have anothe rprogram which automatically loads playlists into WinAMP, but it won't load thru DJamp. As this is what I need to happen - (playlist loads into WinAMP, then DJamp to handle announcements in realtime - song intros, time-of-day announcements, etc.) - I need a version of this that will actuall install IN WinAMP, rather than as a free-standing program - OR is there a way to get DJamp to "see" the already-running WinAMP, and I mised it??? BTW, Although I really don't mind my announcer sounding like Prof. Hawkings, it would be nice if the speach engine were to be improved... Microsoft issue, I guess. - February 13, 2005 by Tom Spencer
---
still worth 5 stars but ?? - i can not contact the author and or the company listed in the files for this program. i have a strange feeling that don johnson is no longer alive? it is sadding if that is true. but i have posted a help page of what i did to get this working and what i found it needs to have done for no errors to show up. the page is at.... http://www.angelfire.com/tx5/rovingcowboy0/DJAmp.html ...if you have any other questions about msagents you can contact me about them. at the msagent charactors group on yahoo.... http://groups.yahoo.com/group/agentcharactors/?yguid=31519639 ...... - February 3, 2005 by keith hall
---
Great program - the program is easy to install only NOT if you do not have all the microsoft agent program files. you must have them installed first inorder for this to install flawlessly. this new verison lets you choose what msagent you want to use. and if you want it to say every song or skip 5 songs. it also has a percentage option of how much of a chance you want to give the msagent at talking you can make it 30 percent chance and 5 songs then you will get longer or shorter amounts of songs that are not annouced. this only works with winamp and not any other players that use winamp plugins so you do need to use winamp. I am not kidding about my 5 star rating of this plugin style of program it is worth more then 5 but thats the limit here. Only thing is my sister dont like msagents, but that is understandable as 90 percent of the girls dont like things they can not control. and this includes pop up things on computers. :) not my opinon but sicentific fact. still this is the only program i have found that will use msagent tech. for other then help files or web page tour guides. you want more info on msagents check out. http://groups.yahoo.com/group/agentcharactors/?yguid=31519639 - August 24, 2004 by keith hall
---
Wrong destination folder - This Plug-In seems to be very nice but it took me two hours to install it!! It doesn?t install to the folder C:\\Program Files\\DJamp as it should by default (unchangeable) but to the folder c:\\Programs. So the link which it creates on the desktop by default doesn?t work. I just found the djamp.exe by accident because it wasn?t clear that anything had been installed at all. Luckily if ound it but it took two hours. This should definetly be fixed!! - January 16, 2004 by Rudi Roket
---
This is awesome! - I would love to see this work with shoutcast. This plugin is what I need to correctly run my "Radio Station." I have been using DJamp for a long time and just registered to post this because I like it so much. Thanks for making a great plugin! - July 21, 2003 by Matt Aune
---
This plug is sweet - I love this plug-in... as soon as i saw it i wanted it and it works great and the best part is that u can make it say anything!!!! - January 31, 2003 by Jesse Cote
---
it good - it is good, it gets a little annoying after a little while. it can only use the main msagent characters, which is four of em. if you get tired of something that repeats itself, don't download this. - July 22, 2002 by john word
---
Cool - Kind of annoying but I changed the words so it says what I want. - July 22, 2002 by Garrett Likeunetono
---
Wow - Really liked alot, but my only complaint is u need to have the input setting to soundcard input on SHOUTcast for it to work(or is it output..?). and forget those people who rated 0 stars because of the bird.. (not creators fault, you can change it) and voice, theres not much u can do about it! (creator) - June 28, 2002 by Noel - ?\_/?\_/
---
I like it - Want to see more features in the new version (If one comes out) but I can't get it to work without using my soundcard output and I don't like that so only 4 stars from me. - June 22, 2002 by Mike McDonough
---
MASAKRA PLUGIN - ZAJEBISTA SPRAWA - June 15, 2002 by PICIA KUBUS
---
WinXP users must read this - frist of all most os's can support progs and some os cant support most progs and let me get this stright the reason for u not getting peedy to work is cause u dont have it downloaded on ur system second winXP as i know of might not even have beedy only os's i know that can support it but NEED to download peedy from microsoft but other then that i give this 5 stair cause i have served it on my online radio and ppl i guess like it - June 3, 2002 by Kevin M.
---
Rate - I only gave this 0 Stars cuz i havn't tried it yet because it didn't download right at all! - May 23, 2002 by Jennifer Guyton
---
... - This plugin is good but the voice sucks.The bird is also stupid... - May 20, 2002 by Daryl Lee
---
Works great, user definable! - Just wanted to tell Don Johnson, I'm glad he took some time out fighting crime in Miami to make a unique application. This thing is very entertaining- I especially like the definable "triggers". I'm rigging up triggers with inside jokes to go with certain songs in the hopes my wife will find me terribly clever at the expense of someone else's programming knowledge. Great job! Download this and abuse it madly! - May 7, 2002 by Beau Eveslage
---
it's just like Speak - Althow right now i'm downing the file...I've seen the parrot and it's one of the Speak's Characters...so I dunno yet....but it looks kinda' cool...and from what I read...It sounds nice...I'll let u know later :) bye - April 11, 2002 by Ruxanda Emil
---
Great! - MS Agent has always been an excellent app, you can use it in web pages, in "help" system aka MS Office but this is a very cool usage of it, I'm glad Microsoft finally decided to include it as part of Windows cause it is a pain to download - March 27, 2002 by Stephen Ball
---
Very cool!!! - Great stuff, man. I'm happy that there are smart people on this Planet. Keep up the good work. - February 23, 2002 by Sorin Sucala
---
GOOD PROGRAM - GOOD PROGRAM But the download is not good :(:(:(:(:(:( - January 23, 2002 by Peter van Manen
---
UMM - I haven't tried this one, and don't plan to. The whole reason i use winamp is to avoid the dj's and the commercials on the radio. But i gave it 4 stars because if you are looking for something like this, then this one looks good. Only one suggestion, cooler charachters! - January 23, 2002 by Daniel Vincent
---
cool - This Bird Looks cool , like it - January 21, 2002 by Chris Barter
---
i am killer - i kill this bird after 3 days. wery bad english - January 1, 2002 by Egg Green
---
this is Awesome - First it's alot a work to install it go there to get the drivers http://www.microsoft.com/msagent/ and you will love it for shoutcast!!! - December 26, 2001 by Almas Arshad
---
Great ! - Amazing !!! - December 16, 2001 by Mak Kir
---
Too Cool! - This plugin absolutely rocks! By far the best WinAmp plugin I've downloaded to date. I've also downloaded a few different characters for it, and not just the ones that you can download from MSN. Any MSAgent character with animation set 2 is compatible. Hurry up with the new version, the other features mentioned sound great! - November 29, 2001 by D Daavid Awan
---
oh yes - this is one of the best pluggins available I have 1500 tracks so this lets me know what is playing, the future feature of playing over the start or end of a track is something I'm looking forward to. The components may be a pain to get hold of and the parrot really anoying but this is such a useful pluggin that the pros really outweigh the cons - November 26, 2001 by Wildheart Baby
---
it is to fast - lorernzo helmer you ideot. DJamp has a setting with which you can change how fast the agent talks. DUH!! I use it's test function to help me read super fast. It works well, and if you say otherwise, you just don't have all the know how that the rest of us do. - November 25, 2001 by Brandon Dickerson
---
This is rather amusing... - If it weren't for Microsoft Agent's weird-sounding speech, this plug-in would be PERFECT! (So it's as close to perfect as possible!) I love this plug-in! (And if anyone was wondering, it works fine on Win2K) - November 16, 2001 by Nutty Schmo
---
cool plugin - the dj thing is cool and you can also download other characters from MSN so thats cool - November 16, 2001 by bryon poe
---
good id... - Hav'nt tried it yet. Is'nt the paperclip run by MS Agent? - October 19, 2001 by Davy NO
---
too slow - I downloaded this thinking it would be cool but the parrot talks to slow. I was silly to think he would talk just like us not like a robot. - October 1, 2001 by lorernzo helmer
---
real funny - I just think it's real funny what the parrot can do. also really great that you can download differant persons/animals for this plug-in; It's just really great; Only one miner; you have to download the persons/animals at microsoft, and they are quiet big... but when you have installed it completely; then it's just... - September 21, 2001 by Nick Kindt
---
Great Toy! - A lot of fun and a really great plaything. Perceptions that Peedy is not available any longer are unfounded. For ease in locating all the prerequisite software in one place try this URL: http://www.microsoft.com/msagent/downloads.htm - September 6, 2001 by Jay Sadler
---
it does work - i downloaded this months ago; you have to check out the readme file & go download some micorsoft file, & then the talking charcthers. but someone posted that the files arent there anymore, so i guess thats that. its a fun program. it gets annoying after awhile, but you can customise it to say whatever you want it to between songs. - September 1, 2001 by William _
---
it dont work - i downloaded this junk for some reasen it would be cool have a bird talk and it didnt work on my win xp. so i deleted it from my hard drive and put in my trash can right 5minutes i downloaded - August 24, 2001 by matt computerwiz
---
Reminds me of Creative Prody Parrot - cheep clone of the Creative Prody Parrot assitant No Voice mute! - August 14, 2001 by Stewart Wood
---
Great - I liked it very much, however many people are saying it doesn't work!! You have to goto http://www.microsoft.com/msagent/ Many people think you goto http://msdn.microsoft.com/msagent, as did I. Please go there and try this cool plug-in out! - July 31, 2001 by Michael Axiak
---
What?? - I didn't know Don Johnson made plugins,I thought miami vice was doing good,well anyway,great plugin!! - July 22, 2001 by Robert Shaw
---
It's a great idea, but.... - Great idea, but the functionality is off, and the thing doesn't respond to most buttons pushed in WinAmp itself. Also, having to download stuff from MSN after downloading this is irritating. - July 13, 2001 by Brent W.
---
Rules - I think this plugin rules, but with a pctv remote control it isn't easy to install. But when it works it is the most greatest plugin ever!!! - July 8, 2001 by Koen ?
---
baff - it was ok but it does remind you of bonzi buddy - July 8, 2001 by carlos j
---
It sucks - haha you gotta be kidding this thing is a joke - June 18, 2001 by Aaron Dubeyy
---
SUPER!!!! - Fantastic, and if you get bored with teh character, try downloading robby =) - June 10, 2001 by Hans Peeneman
---
Doesn't look that good - Yeah, its a brilliant idea, and it works really well, but to be honest it looks a bit naff and would be a lot better with a decent GUI. If you wanna use the play controls, you have to use the app - it doesnt respond to the normal WinAmp buttons. Also, some kind of speech replacement feature(...?), It still won't pronounce 'B*Witched'. Anyway, it's a decent program, get it - June 10, 2001 by Gareth Adams
---
Dj Amp - I think it's realy cool - June 8, 2001 by adi goea
---
Nice Takeoff - Although this is a nice feature, I must say I was disappointed. It reminds me a bit too much of Bonzi Buddy - the most annoying download on the web. But, most people should like it. - June 2, 2001 by Wayne Halstead
---
Maybe it should be two stars - Technically this is a cool and well done plugin. But before long I wanted to club the bird - it gets bery annoying. - May 24, 2001 by paul edenfield
---
Allways ON - This is great stuff..and it is working...Using the voice of MSagent Merlin it is even better...Really making life better..Now i know the names of all the songs i've got(3000+).. - May 17, 2001 by Jakob Hviid
---
Cool, but......... - he got annoying after a while, so i ate him - May 7, 2001 by rory ketchum
---
COOL! - I think this thing is cool. - April 26, 2001 by Robert Nogo
---
What to do at 2 am - If you're bored, and browsing the plugins of this site at 2am (like i'm doing) this plugin is a wild ride. it takes a little bit of installing if you don't have msagent installed, but that's not a big deal, and this is totally worth it! the readme file sez just download peedy the parrot, but go ahead and download all the msagent characters. they work with the plugin too. - April 15, 2001 by Link Dupont
---
parrot 4 a dj!!!!! - really cool new idea - April 3, 2001 by angelo adrao
---
Cute :) - I love this thing! It's really fun to play with when you're bored. Changing the messages the parrot says is also fun, so you can customize the messages to fit your station/party. - March 31, 2001 by Adam Nowek
---
Really fun - DJAmp is a nice and funny plug-in. The fact that you can customize it with your own comments is the icing on the cake. Great work. - March 30, 2001 by Twilight Seer
---
AWESOME!!!! - The best virtual DJ ever made in history!! Awesome for having a virtual DJ on a all-night station. - March 29, 2001 by Nathan Jongstra
---