>
Plugins

>
DSP/Effect
DJ Helper version 2 51
Makes WinAmp a pro DJ machine
Makes WinAmp a pro DJ machine
The DJ Helper gives WinAmp more features than professional DJ-type CD players that cost $500 or more.Using the DJ Helper and a standard PC with two soundcards, you can master performances like a pro DJ, with unprecedented ease.Features: 3 cue points, independent tempo & speed control (+/-50%), volume normalization, crossfade, pitch bend, automatic & manual BPM counting, save cue point & BPM into the mp3 file and many more...NEW IN VERSION 2.50:- New look, with WinAmp-like colors (at last...).- Normalization (automatic volume control). Controls and keeps the sound volume at a constant level. No need to pre-check and pre-adjust the volume of each song - ever! It's magic!- (Somehow reliable) automatic BPM counting.- Playing status indicator (Playing/Paused/Cued, etc).NEW IN VERSION 2.20:- 3 independent cue points, all of them savable- Memory function for Tempo: Instant switch between two Tempo settings- Tempo and speed sliders have a +/-50% range (in 3 "sensitivity ranges") for special effects- "Cue without stopping" function- Almost all functions now with keyboard shortcuts- Primitive loop function (press Control+S to activate)- Cosmetic changes and bug fixes
Download plugin
| | | |
| --- | --- | --- |
| January 28, 2002 by Leonidas Drisis | 456141 downloads | |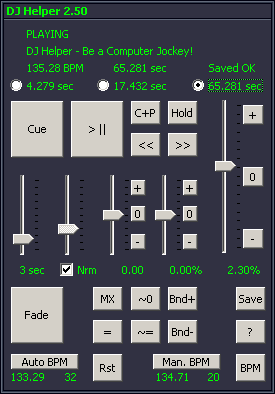 Staff review
Dj with Winamp
Great plug-in packed with all the features you need to mix like a CD dj without spending silly amounts of money on gear. Automatic BPM matching and counting...manual pitch controls... crossfade automatically...set crossfade time for abrupt or smooth fades. This tool definitely has it all. New version with many many updates... read author's description for a complete list.
Comments
I installed it and it would not bring up the control window. All I could get was a doc window which referenced a commercial site with no documentation. It may be Windows 7 incompatible. In either case it has been abandoned and as such should be removed. - March 11, 2011 by [email protected]
---
I had to see it... - Well, I started using this plug in a while back, since Winamp 2.X.... It does what it says and does it good... now, on a new PC it is a must-have... - December 4, 2007 by Alfonso Rodrguez Martnez
---
Nice plug-in - Very useful and comes with comprehensive doumentation. The look and feel could be a little more in line with winamp, but the large buttons are easier to see. - December 12, 2006 by mike i
---
great job - looks clear, helps a lot. congratulations ! - March 31, 2006 by grzesiu onehorn
---
Wow. - I have used this plugin since it's older versions was released, and boy has it come a long way. This is by far my favourite plugin ever and to me, is better then any of the 'DJ' software you buy out there. For those who have trouble being able to set an exact cue or bpm, remember it stores it all in the comment section of a songs ID3 tag. So go alt+3 and edit the values manually there. Haven't seen the author do much with this plugin lately, not too much you could do. But the only improvement I would add, would be to be able to set a new bpm without having to match one. ie. I'm only using the one winamp, have a song at 118 and want it to be 130. Sure I could slide the bar up, but I wouldn't get it to match 130 exact, so manual imput would be great for the sliders to get an exact result. A small tip for users, download MuchFX, and load this plugin with a bunch of others, and you have a very customised mixing ability. Load a low pass filter, or a echo dsp, or any other fab plugins around here and use them whilst beatmixing. I actually use this process professionally in clubs and it beats the very limited equipment that other djs in the same venue use.... and mine's free =P - February 25, 2006 by matt g
---
great for what it is - For those times you don't need a whole mixing board, this is perfect. I use it to edit music tempo's and tones for dance practice music. Its perfect for the job i need. When i have to do more complex work though, i have to use other programs, but for the simple stuff it is awesome. - January 3, 2006 by dev fellows
---
Auto Normalize, Auto-BPM but manual pitch? - Why can't we be sure that the setlist is in tune with itself? While counting BPM, please try counting BPS (cycles per second) to determine the deviation from A=440 pitch, and automatically adjusting to match that. The "manual" pitch adjustment should be there so we can decide to play everything sharp or flat if we like that. That way, we won't need to retune song our instrument or your plugin song after song to play along with a playlist? It's a nice plug-in. Please make it the talk of ALL musicians :-) - January 7, 2005 by Bob Zawalski
---
I Love It But... - I really dig this plug-in...but i like the older version better. I am really good at mixing by ear...so i don't really give a sh** about BPMs...also, i can't get it to stop skipping. I'm gonna keep trying though, because this is the most complete mixing tool i could find to fit my purposes. i could do without all the automatic stuff too. Please put the older version back on the winamp site...PLEASE!!!!!! - September 17, 2002 by James Maddox
---
AWESOME esp for pitch/tempo - the only pitch plug i can find that measures in musical tones rather than percentages. helpful for certain applications. plus it has a lot of other features that are good. - February 21, 2002 by Jack ...
---
cack - cack keeps crashing - February 2, 2002 by tony faulkner
---
Don't need 2 sound cards - Hey hey hey hold on, I absolutely do NOT have two sound cards and I can use this plug-in fine!! What's up with that Drisis-san? - September 29, 2001 by Matthew Burtless
---
Fantastic DJ Plug In for Ultimate WinAmp Experience - Music... Parties... Clubs... Disco - [DJ] - Turn tables ? This blasting WinAmp PlugIn is something out of this world ! Forget the rest and get the best ! Have a complete control over your music (tempo, pitch, speed, bpm, etc..), DJ with Two WinAmps at once... Fade your music from the background into foreground - Be the master of your music - This is a MUST get - July 15, 2001 by IQx x
---
its ok.... - its ok but if you goto to the plugin browser and try to stop it malfunctions, its features are good though but its dull - July 4, 2001 by Cesar Espinoza
---
yea it kicks but... - the reason why i gave it 4 stars is that the cue-ing system isn't very exact. when you need to cue the exact moment of the beat, it takes you a long time. and on most cases you won't even succeed. temporary pitch up/down isn't very good either. when you need to take the beats into one phase you can very easily "scroll over". +/- 3% is too much, there should be another option like +/- 1% or something. - June 13, 2001 by DJ BcZ
---
Vlada - Better try to use Atomix MP3. The best of all Mp3 players. - June 12, 2001 by Vladan Stankovic
---
GREAT!! - I CAN'T BELIE IT - May 29, 2001 by DIANNA COLLIER
---
great prog, but... - is is really awesome tha such a light download plug-in can do all these thing, but there are very fw people who have 2 soundcards. isn't there someone who could make 1 player on the left channel and the oter on the right? it can't be that hard to ad since you can create such a wonderfull plugin. e-mail me please if you have suggestions [email protected] thanks - May 20, 2001 by grimo snowboard
---
Well, hog my hooter - This is a fantastic plug-in, it does everything I need. The thing I hate about stuff like AtomixMP3 is that they make it look so good, but it can't do anything. This plugin does everything, but looks dull. The only suggestion I have is to make it skin-able or at least semi-groovy looking. AWESOME PLUG, we need more like it. One other thing somewhat lacking is a usable loop, although Ctr+S brings up the "loop" feature, it doesn't work well, since there is a small (.02) sec delay on it. Besides loop function, this software does EVERYTHING ELSE. I love it, great job. - May 16, 2001 by Seth Fraser
---
But a gave it at lesat 10 start! - I coul'd not believe my eyes that something like this plug-in can exist! It is fantastic and unbelievable! I am not a DJ but the pos?ibily thah gave it is so FANTASTIC! What can I say: It is FANTASTIC, PERFECT and FUN. The music effects that came are so GREAT. I advise you to download it! - April 3, 2001 by Boris Ribov
---