>
Plugins

>
Input
DiPlayer Plug-in
Play diSongs with your Winamp!
Play diSongs with your Winamp!
The song is different every time you play it!Just download a song in the special diFormat and play it with the diPlayer or with your Winamp player using this plug-in!This is the musical format of the XXI. century!
Download plugin
| | | |
| --- | --- | --- |
| January 27, 2003 by Digimpro Kft. | 20494 downloads | |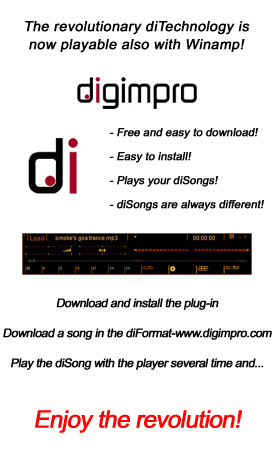 Staff review
Play diSongs in Winamp
Allows for you to associate di files with Winamp. Install is straightforward and works. Check out www.digimpro.com for more information on the diSong format.
Comments
Review of DiPlayer - First off, know that some DiMusic costs money to listen to. Fortunately, there were some that are free. The downloads are about 1-2megs. It works as a plugin. As near as I can tell, it's a re-hash of a .MOD player since it repeats many sounds. Different every time ? Well, it just might be .. It wouldn't be too hard to make a Mp3 player that shuffles some of the timing and tracks if you knew how to write the code for it. I'm listening to SeaDreamer right now. It just doesn't sound like Sea or Dreaming to me. Maybe like an added track of music for Ricochet and not very well done. If I chose the WORST example song, DiP, please let me know, cause I'm not very impressed by this plugin. I still think TARA's RealMusic player plugin and the PSX-music plugin are the best media cross-over plugins I've listened to so far. :D Sincerely, =David W= http://members.dfwonline.net/dw817 (New Home Of Scenario RPGMaker) - May 8, 2003 by David Wicker
---
To play diMusic - To use the Winamp plug for the diPlayer you must also download the diSongs available on the http://www.digimpro.com/diSong ! Only diSongs will be played differently each time you play them! - January 28, 2003 by Digimpro Kft.
---