>
Plugins

>
Plugin Skins
DFX Skin Generator
"Converts" Winamp skins to DFX skins
"Converts" Winamp skins to DFX skins
With this program you can make DFX look like a winamp skinned window. For those who don't know DFX is a Winamp DSP plugin.
Download plugin
| | | |
| --- | --- | --- |
| August 18, 2003 by Patras Vlad | 34723 downloads | |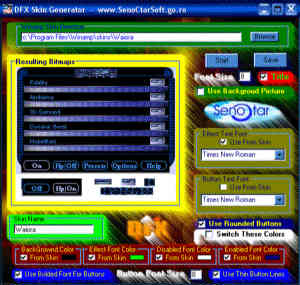 Staff review
Skin generator for the DFX plugin
DFX is a DSP plugin for Winamp...and this is a seperate application that allows you to generat skins for DFX. The interface is a little colorful and busy, but, it has a fair amount of features to get you on your way to creating a skin for DFX.
Comments
DOes not seem to Work with Vista - A briliant idea but does not seem to work with Vista. No instructions with download but keep getting error that file not found.Browsed every directory in Win Amp skins but error kept on comming. - February 11, 2008 by Doug Rash
---
Great! - but with problems! - I made a DFX skin that looks just like my favourite Winamp skin. I am very pleased with it, but I might adjust a few things with photoshop to my liking. The only big problem I have with this is that I can't get the DFX window to dock with Winamp! Even the normal DFX skins don't dock with anything but the main Winamp window, but the one I produced with this program doesn't even do that. Also, whenever I click the titlebar on my new DFX skin, the DFX website keeps on popping up. So I can't use my lovely new DFX skin. Damn! - August 4, 2005 by Jason Gomez
---
Works Perfectly - This thing works great! I like my Winamp v.2.95 In the following form; Winamp Main with the EQ underneath, then the DFX under that and finally the Playlist, all in a stack. This DFX skinner makes a skin that fits perfectly and matches the skin perfectly. Unzip your Winamp Zip skin file or the .wsz skin file into a folder. Start the DFX skinner and use the "Browse" button. Select the folder you have extracted the contents of the .wsx or .zip file to. Click the "Start" button. It makes a DFX skin right in front of you. Under the skin window is a box to give a title to your skin. To save, click on save. The window will now show the default location of the DFX/Shared/Skins folder. Select that and click save. Your new DFX skin is now in the above location in a folder with the new skin's name. You can also customize colors if you want. I have made 10 DFX skins this evening. There is 1 page of Help with DFX Skinner but since I just made a bunch I thought I would share how I did it. This thing is great! - May 23, 2004 by Az Dec
---