>
Plugins

>
General
CUE Navigator v0.8
Navigate inside CUE-tagged files
Navigate inside CUE-tagged files
Purpose: Enable navigation inside one-album files with CD CUESheet embedded inside APE tag (v2.0) or FLAC tag. External CUE files which are loaded automatically are also supported. How it works: Pressing Next/Prev when one-album file is playing skips to Next/Prev track inside the file. Clicking on track progress also updates title. Title is updated with the use of special tags. Known issues: Plugin heavily relies on Media Library. Please verify file title after it is added to ML. Plugin works fine (titles are shown as per ATF string) after file is properly added to ML. Readme: Readme file included contains contact email.
Download plugin
| | | |
| --- | --- | --- |
| January 18, 2010 by Eugene Ivakhiv | 30765 downloads | |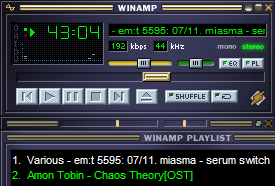 Staff review
Alternative way of handling CUE playback
This is a different approach to cue playback in that you advance through the file+cue using the next/previous buttons before it then continues onto the next real track.This way of passing through the file+cue may not suit some people but it seemed to work out with the few test files tested with it. Only issue was that the keyboard accelerators (b + z under en-us install) didn't work as the next + previous buttons do. Make sure to read the included txt file on how this works.
Comments
WinAmp crew still keeps in review fixed v0.8. Please visit plugin homepage for latest version: ivasha.wordpress.com - December 20, 2010 by Eugene Ivakhiv
---
Well it worked until the new dec 2010 winamp broke it ! Just downgraded back to an earlier winamp to get this plugin working again! It is handy though with the number of tracks with cue files now on newsgruops ;-) Bomb3r - December 5, 2010 by Big Lad
---