>
Plugins

>
General
ControlFreak v1-1
Winamp remote control for your Series 60 smart phone
Winamp remote control for your Series 60 smart phone
ControlFreak is a cool Winamp remote control for your Series 60 smart phone. Bluetooth connects your phone to your computer so you are always in control whenever you're in the zone. ControlFreak enables you to play, pause, skip tracks and adjust the volume, without getting off the couch.

If you are looking for even more control, you can buy ControlFreak Pro. It's loaded with great features designed to get the most out of your listening experience. Please visit http://mtvoid.com for more details.
Download plugin
| | | |
| --- | --- | --- |
| May 26, 2004 by Trent Fitzgibbon | 32889 downloads | |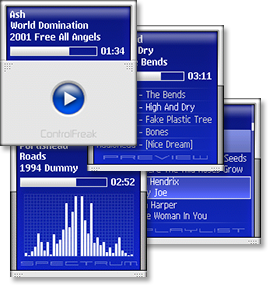 Staff review
Control Winamp with a bluetooth-compatible phone
Allows you to control Winamp's main functions (play, pause, skip, etc.) with a bluetooth-compatible phone. I didn't have a phone to test this out with... it installs ok tho. If any bugs are encountered, please notify the author.
Comments
Cool - I have used this with a Nokia 6600 and currently with a 6680. It is just wonderful. You can actually browse the playlist including a search function. You can also see your pc\'s screen on the phone and even shutdown the pc. I cant get the library function to work though. - March 30, 2007 by Tendai Shoko
---
This is like magic! - I have a Nokia N70. I like Symbian OS. I also like my Win XP notebook and speaker systems and Winamp. Indeed I LOVE Winamp. With your incredible and very clever and innovative solution I LOVE it more... It really works flawlessly! Thank you guys. - July 29, 2006 by Otto Man
---
Amazing !! - WOW!! I was going to attempt to write a program like this, but now i dont have to!! All I have to say is WOW!! This little prog is absolutley amazing :D Worked first time for me :D Im using a Nokia 6630 mobile and it looks great on there, all the options work aswell :D:D Now I can lay out in the sun, with the laptop in the kitchen and remotley control winamp without having to get up to turn it down during a phone call!! Im well happy with this :D IXIS - July 11, 2006 by Stuart Villis
---
Updated review - Just had an email from MTVoid support full of helpful advice. Eventually, we found the problem to be with my BlueTooth stack driver. ControlFreak can connect to either the Bluetooth LOCAL APPLICATIONS or LOCAL SERVICES Com Serial port. If one doesnt work then try the other ! Having evaluated the Free version, it works excellent. I'm buying the Pro version now, I recommend it to anyone & everyone. - June 2, 2004 by Dave Derrick
---
ControlFreak for Nokia S60 - I like the idea of this, but I can\'t seem to get it working on my N-Gage. I have emailed the devs via their site & hope they can suggest something. My 0 star rating is not a reflection on the software, it looks very professional, but its 0 until I can get it working. If I get any progress, I\'ll share it with you all. - June 1, 2004 by Dave Derrick
---