>
Plugins

>
DSP/Effect
CompWide
Dynamic enhancer and stereo wider
Dynamic enhancer and stereo wider
Small size, large sound. Use this DSP to get rid of tracks in different volumes and to enhance the sound of most of your audio files. Includes treble shifter and stereo wider.
Download plugin
| | | |
| --- | --- | --- |
| January 26, 2003 by Martin Pesch | 132829 downloads | |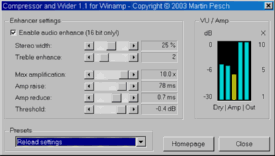 Staff review
Helps to spice up your audio files
Straightforward dsp plugin that helps to give your audio files that extra boost and sparkle. Features stereo widening and compression... you can tweak the sliders yourself, or use one of the three available presets (soft, medium, hard). Fairly easy to use, and provides a good sound.
Comments
YES!!! Finally, something that works! - This plugin rocks all, I've tried ones that use the DSP feature of winamp, and none of those had the compression capability of this one. I can't wait to use it on my radio shows I do. Indeed, its a plugin that you must have, although you can't have the 24bit option checked in winamp though. But it works, it rocks, thats all you need! - December 2, 2008 by Jason Vajgrt
---
would love to tell you if..... - i got thevdownload instal thing come up, i had to tell it where to go, it suggested i tolg it to intal in winamp plug in dsp thing, but it aint there, twicecant be as straight forward as all the bright sparks here say.... maybe it is if i can get it to appear - October 6, 2008 by paul g
---
Perfect plugin - This is one that actually works as advertised. Presets included make it a no-brainer. Works great with Shoutcast radio broadcasting, especially when mixing CD & vinyl in playlists. - September 12, 2008 by Brian Dawley
---
better - best - August 8, 2008 by soon peng
---
The best off all!!!!!!! - working fine whithe all winamp's .. have run it in all my install from w 98 ->xp . the best off all plugin i have test (200-400) - July 19, 2007 by Thomas Nsberg
---
EXCELENTE!!! - Simple y excelente. Muy buena las presinton?as y la funcionalidad. Muy bueno!!!! - August 2, 2006 by Andy Chango
---
Sweet and Simple. Sounds great. - This is an EXCELLENT plug-in for normalizing the level of sound. If you need an after-the-fact automatic gain control, this is it. I have used Sound Solution, which is more powerful and complex, but for a simple solution, CompWide cannot be beat. The stereo expansion and treble enhancement are just gravy, but good gravy. - January 10, 2006 by John Paquette
---
Nice - Nicely done :D and tnx for a goood DSP :D Daniel Viggeborn http://www.carperformanceclub.se - October 16, 2005 by Daniel Viggeborn
---
Very good - This is easy to use, does a good job and desn't crash. Recommended - October 1, 2005 by Bjorn Moxica
---
Martin where are you? - Martin, if you stop by to read this, I have a feature request for mp3directCut - please allow it to work with .ogg files. I love your product, but just wish I could use it on my .ogg files as well. thanks. - September 26, 2004 by Stewart Midwinter
---
Nicely done - Yes, this is another one of my tested favorites. Simple, effective, good overall sound. The only glitch is the fact that we cannot save our own settings...but who cares ? It works nicely - January 8, 2004 by Artur Nogueira
---
A real audiophile audio processor - If you are looking for a real audiophile processor, look no further! I've tried every compressor/processor/enhancer on this page looking for something to keep the loudness and peak level consistent without destroying the integrity of my audio and this one actually does it. I thought it was another piece of junk at first but I found with some educated listening you can get this little guy to really rock and still make the ballads sound pretty. The presets are all very aggressive so don't be fooled when you first crank it up. Just back it all down until it sounds good to you. The stereo expander is very subtle and sounds nice with headphones and the little treble booster is intelligently placed before the compressor. A little goes a long way on those controls. The real power is in the 'Threshold' control. You can set it to allow the processor some extra head room to work with and that helps to deal with an over processed song that just blasts through an ordinary DSP. A processor that holds the RMS level down and lets transient peaks through is better than one that just tries to 'normalize' everything. Martin Pesch obviously understands that and I thank him for putting CompWide out there for those of us who know what good audio is all about. I took off one star for the tiny sliders it uses for controls and the fact it will remember how you set it up but you can't save different custom presets. Also, you can only feed it 16 bit audio. That siad, it still sounds wonderful on a wide range of program content. I've used it for music and speech and it handles both quite well. - November 8, 2003 by Joe Collins
---
well done - good stuff here, but you've got to make it understand higher resolutions like 24 bit and 32 bit. That'd be a great fix for an update. - July 2, 2003 by Thad Rydell
---
Excelent - Excelent compressor/limitor. The sound flows up and down smoothly, as well as having a limitor to kill peaks. Plus has an audio meter so you can see how your ranges are set and fine tune them. Five stars. - May 2, 2003 by Eric Hoffman
---
Kewl - Kewl, worthy plugin! - October 7, 2002 by Donis Mags
---
Excellent! Simple but effective! - Simple operation. Pick 1 of 3 levels of enhancement, adjust a few other sliders and checkboxes until it's tweaked just like you want, and rock on! (or dance on, or rave on, or twang on, or rap on, you get the picture). - July 28, 2002 by oneamong1000 _
---
This kicks @$$ - all my music sounds so much better thanks to this. you people have to dl this it's great. props to martin. later - July 22, 2002 by David Hess
---