>
Plugins

>
General
CDG Plug-In
play cdg karaoke files in Winamp
play cdg karaoke files in Winamp
This tool is used to play CDG files (AKA mp3+g) in sync with MP3 or other supported formats by Winamp.
Download plugin
| | | |
| --- | --- | --- |
| January 29, 2004 by Yannick Heneault | 511841 downloads | |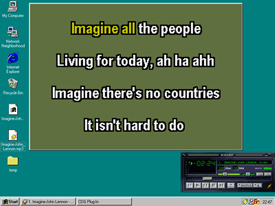 Staff review
Turn Winamp into a karaoke machine
Allows for you to play CDG files along with mp3's and other supported formats. Just place the CDG file in the same folder as the music file, and a window will open up that displays the information.
Comments
Great Plugin, does exactly what it is supposed to do with no problems at allThank you, les - March 15, 2011 by ljr2025
---
i have used this for years and still does the bis,nes.i have over 35,000 cdg files i use when dj ing.it has frozen a few times over the years.but i,m still very happy with it.i use it with winamp modern. great item.many thanks..eddy - September 21, 2010 by edreddin
---
Downloading - I have been trying to download file but it never completes, tried on two computers,any suggestings. Thanks or the help - June 8, 2009 by crazzjack
---
Very nice! - i needed a simple lyric player and here it is!!thank you, this is very useful and easy to adjust the speed. - January 16, 2009 by Marc Trans
---
Fantastic - This plugin is absolutely fantastic turning your home computer into a professional karaoke playerI am surprised many DJs out their dont use it. I just love it thanks Yannick your a star.***** - November 11, 2007 by David Bryan
---
CDG Plug-In - I love it. I have experienced very few problems with it. In fact the only problems I have had are with a few corrupt mp3+g files I tried to play. I would reccomend this plug in to anyone that loves to Karaoke. - October 4, 2006 by Garry Espinosa
---
Karaoke zip files - I have been using this plug-in for ages and I love it! It would be the perfect plug-in if it could play karaoke zip files and save having to use another program in combination. I realise that zip files aren't a media format so maybe it can't be done but it would be cool if it could be. - March 28, 2006 by De Lee
---
Still the One and Only, and works great too! - Very true to the look and animation of the original. Fast to appear, plays well with tempo changers and other plug-ins. Yannick - any chance of providing a knob to adjust the transparency of the background color on the fly? Thank much!! - March 13, 2006 by Dave Hanson
---
It works - Title say all - October 21, 2004 by Eric Zirbel
---
Not working on Winamp 5.05 PRO - Works great on Winamp 5.05 as it has on previous versions of Winamp. Have been unable to get it to work on Winamp PRO. Will keep trying. - September 12, 2004 by Robert Brown
---
Cd+G Plugin - I've been using this plugin at my shows for over a year. It works perfectly! I wouldn't want to go back to CD+G disk. I also really love using Winamp it's so easy to use and does not need a super fast computer to operate. - May 24, 2004 by David Petteys
---
Thomas Reed u Don't know what U R Talking About.. - This plugin works great!!!! It Rocks.....Thomas Reed obviously has no idea what he is doing....So Thomas...before you give negative reviews..... maybe you better learn how to run the program,because there is nothing wrong with this it. Get it and have Karaoke right on yer computer...exactly like real karaoke. - May 14, 2004 by michelle nex
---
Update for Winamp 5? - I downloaded and installed Winamp 5 before installing this plugin. Big mistake. It doesn't apparently work. Hopefully, it won't take a lot of rewriting for the genius who created it to update the plugin. Wish I could do it, but I'm kinda a country boy whut never been to the big city and all. - March 11, 2004 by Thomas Reed
---
Good Karma Man !!! - I love it .. Greatest plugin. I took my Karaoke Files, put them on a CD and put winamp (V2.4 won't work with 3.0) on the CD, made an auto run file and I have Karaoke CDs that I can pop into any PC !!1 Talk about being the life of the party ! I just bring em along and before you know it everyone's a star !!! Yannick .. You mad a lot of folks happy ... Good Karma Man !!! - July 25, 2003 by k0sm0 kramer
---
Works beautifully - This CDG Plugin works great, especially for the price! I use it over WinCDG Pro 2. A winning combination with the pitch controller. I've been into karaoke for years and this is the way to go. The lyrics onscreen are sometimes out of sync a bit during long songs but overall this is a top notch job by Yannick. There's also a version of the CDG plugin for Winamp 3. - June 5, 2003 by Hound Dog
---
Bravo, Bravo, Bravo - For me this is the best plug-in for winamp I ever use. Thank you very much, you make great thing for karaoke community. This plugin is stable, fast and FREE:)) ?CyBeRpUnK? - September 5, 2002 by Karaoke King
---
Excellent! - Vast improvement over WinCDG, in all but one respect - it works with cdg files only, and can't see true CD+G cds. - September 1, 2002 by Dave Howe
---
CDG Plug-In for WA3? - This what I have been looking for ever since I have started singing Karaoke. Is there a version of this in the make for WA3? I hope so and can't wait till it's release. - August 21, 2002 by Jesse Wilson
---
DOESN'T WORK ON WINDOWS XP - downloaded this plug in but it wont work in xp the title comes up then the display shows the usual spiral effects but alas no cd+g graphics but the audio plays. - August 8, 2002 by mike kerr
---
karaoke player - works great on xp you must have a problem understanding your operating setup , this is a first class addin , works better than wincdg pro and its free , i use it all the time the rendition of graphics is fast and smooth and really well written . i reccomend this to all karaoke freaks..tc - August 8, 2002 by antonio capone
---
My Vote for Best Plug Ever - This is the most useful smoothest plug I know of. It makes Winamp do a better job with karaoke than the existing commercial apps ever did... - July 24, 2002 by Rock Kennedy
---
Incredible - This one is great, Im a DJ I use it all the time. 1 Word alt.binaries.sounds.karaoke. Get a Newsgroup 1,000s and 1,000s are there. - July 14, 2002 by kevin McDermott
---
Great Plug in! - For those of you that like... nay LOVE Karaoke, do yourself a favour and pick up this Plug-in. The first version was pretty darn good, the second one fixes some bugs, and makes it an awesome one. Yannick, keep up the good work, and lookin' forward to the next version!!! - July 13, 2002 by klutzo klutzo
---
Yes, it works...... - If you have tried WinCDG and weren't too happy with it, here's your solution. Download this plug-in and sing along till your neighbors start knocking...works great. - July 1, 2002 by Andy E.
---
Whoa, this s**t rocks!!! - Hey, you! If you found this review the same way I did, then you have to download it! It absolutely blows WinCDG away. I can't believe I paid money for WinCDG...poor me. It runs the way you wish WinCDG would run, especially on slower machines!!! - June 30, 2002 by Cory Jacobs
---
Works, and works great! - This plugin completly blows away WinCDG (a $15 program, considered to be the standard in this area). It gets 100% of the graphics right on some formerly difficult to play CDG files. Watch out, it's not compatible with crossfade plugins, but that's not the author's fault ;) - June 4, 2002 by Joseph Wisniewski
---