>
Plugins

>
Input
CDG Disk Player Plugin
Play karaoke cd+g disc
Play karaoke cd+g disc
If your system is equiped with a cdrom/dvd drive that is able to read subcodes, this plugin will let you see the graphic and hear the song on a cd+g disk. This transform your pc in a karaoke machine !
Download plugin
| | | |
| --- | --- | --- |
| May 10, 2006 by Yannick Heneault | 79478 downloads | |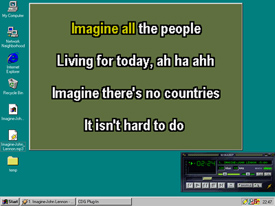 Staff review
Play cd+g disks with Winamp
I didn't personally have a properly equipped drive to test this out with...but, it did install ok. If any bugs are encountered, please contact the author.
Comments
how to register though? - It works just fine. I wanted to register this to remove the 1 minute limitation but when I went to Heneault's site it seems to have been taken over by someone else and there are no links for registering this plugin. - May 29, 2009 by p_mccarthy
---
Used to work - I had this working just great until I updated to the latest version of Winamp.If you enjoy this plugin as much as I do, do NOT update!! - January 29, 2008 by Jim Harmon
---
Great - I have a plextor 716A external DVD drive, and now that I installed this plugin I can play CDG disks through Winamp. I have one problem to solve, it only gives me 1 graphics screen, even though I have KJamp plugin installed twice. When I used Roxbox for my mp3+g's it always give me 2 screens of which I extend my desktop to show 1 of them to an external monitor.If someone can explain how to get 2 screens active with this cdg plugin I would appreciate it. - December 29, 2007 by Gary Carmichael
---
Works well, instructions poor though - This plugin works wonderfully on most of my CD+G discs. It managed to read the +G track off of my Sega CD, Amega32, Saturn, 3D0, and LDA discs, but not my Dreamcast CD-interactive Arcade disc, even though I have a GDW (GD-Rom/burner) drive. Directly referencing the previous review, the instructions leave something to be desired. I've installed this plugin on Winamp 5 on 6 different computers now, and found that 5 of them required some extra work. Depending on your setup: 1) Close any virtual/clone drive software you have ruining, completely. 2) If you have it, close AnyDVD 3) Install the plugin 4) Restart the system BEFORE you run winamp again 5) on Re-boot, run winamp, enjoy. :) - February 10, 2007 by JohnRobert Clark
---
it sucks - I tried this out and it is no good. With the plug-in installed, I couldn't access any of my cd's that I put in the computer, even data cds. - May 20, 2006 by Me o
---