>
Plugins

>
DSP/Effect
Breakaway Audio Enhancer
Breakaway remasters your digital music library as you play your tunes on Winamp
Breakaway remasters your digital music library as you play your tunes on Winamp
From the creator of Volume Logic, presenting a new, broadcast quality system to revolutionize your listening experience. Now, all your music, movies, and sound will be presented to you with the highest level of quality, consistency, and depth. Multi-band audio processing will bring out the punch and balance in all of your audio, while detailed and authentic metering let you see it in action. Never again will you have to reach for your volume control to crank up that tune that's just too quiet, or turn down that hot track that pumps a little too hard- just sit back and enjoy the sonic bliss! Other features include a fully sizable, and dockable interface, accurate Oscilloscope and Metering, Windows Explorer extension, and setup wizards to squeeze the top performance from your system.
Download plugin
| | | |
| --- | --- | --- |
| April 1, 2008 by Leif Claesson | 114521 downloads | |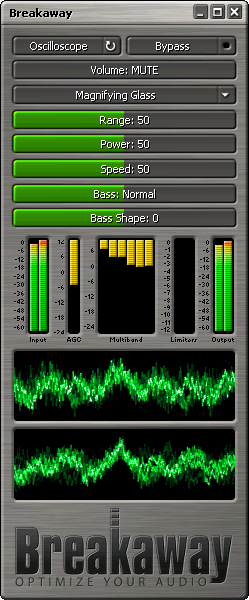 Staff review
Breakaway Audio Enhancer
For a new listening experience. Try it out.
Comments
TROJAN INSIDE - AVIRA AntiVir Says: ProgramFilesDir/breakaway.exe [FUND] Ist das Trojanische Pferd TR/Agent.4087887C:\Dokumente und Einstellungen\Versus\Eigene Dateien\Downloads\Breakaway_Audio_Enhancer.exe '4b0d5d77.qua' - September 11, 2009 by versus
---
Yuk - This plugin sucks and will mess up your computer. - September 7, 2009 by gruv2nz
---
Destroy a PC! - Having loaded this progeamme and re-booted the PC it apperas to have fried the Bios, so no more PC. This is the fort of download Winamp allows? - August 21, 2009 by past53
---
Is it a virus? - I use NOD32 Antivirus and when I try to download this stuff it tells me that it is a Themida application.What the hell is this? I want to use this program because I see it has some very good comments but....? Can anyone tell me?I tried to download it from the manufacturer`s site and I still had the same message. - May 18, 2009 by Mateiuc Dan
---
perfect......... - thanks for this masterpiece...if there is enuff rams and cpu a well working operationsystem without any bugs and broken drivers...and a good lineup of stereo (lindemann ..elac )in my case ....this is just a perfect tool and the only trick is to find your personal settings..well done !!!!!!!!!!!!!! - October 21, 2008 by werner lutze
---
Love it/Bought it - Sounded so good, I decided to buy it. Am glad I did too. Couldn't be without this one. Presets are very functional. - October 10, 2008 by Herb Stanley
---
cool - loud - October 2, 2008 by soon peng
---
Nice Interface, but... - #1: Sorry, this is NOT a plug in.#2: It installs as a separate piece of software, with nags.#3: It was gutless. Cut my sound by 50%, lost 2 speakers from my 5.1, and the slider action to make adjustments needs ALOT of work.Please, if you are going to offer items that are NOT plug-ins, you need another category to put them in.I prefer my sound goodies to ACTUALLY be in with my sound player.#4: For what this is, it caused my cpu usage to take a MAJOR jump..leads me to believe that there is alot of unnecessary code with this. When I looked at my task slaver, it showed at least 2 instances of this running, and both were needed for proper operation. This was a bomb...do not bother. - July 13, 2008 by Papa Smurf
---
Enhanced my sound very much......BUT - When I tried to uninstall it all sound in winamp stopped working..........sound everywhere else worked just fine though. - May 10, 2008 by Nik K.
---
Not Bad, NOT the best by far! - Don't get me wrong, this is a nice tool.The way the setup a sound driver that directs to the sound card is genius! (Pretty much they make it work with 99% of apps without much trouble)But I will say, ffdshow has more control by far, including hardware processing optimizations. ffdshow can handle 32-bit 192KHz audio streams, I have yet to find a consumer sound card that even supports that high of fidelity, most cap at 24-bit 192KHz.I currently use ATSurround to output my audio as a DTS stream via optical, ffdshow to process my input, and the 250 Band EQ by Nevi as a DSP. This configuration gives me complete control over stereo to surround upconversion, along with numerous enhancers.I can tell you know my sound card isnt much, but it is being maxed out as much as I've found possible without creating audio distortion.Any questions, contact me:s_k_h_a_m_e_n_e_h_@_g_m_a_i_l_._c_o_m(remove the underscores) - April 30, 2008 by Shawn Khameneh
---
EXCELLENCE! - This is by far the best, smoothest, most customizable, most intuitive and easy to use mixer. Even the many presets are so good at turning the most subpar staticky live track into a crystal clear CD quality version. Also, under custom settings mode, you can set anything from buffer size, to freq. range, to toggling on or off great features like the auto-sync that is spot-on in keeping the media player and the Breakaway outputs in total sync.You can boost the bass massively, even compensate for small speakers with a "bass shape" level to add punch to your music with no true subwoofer. It docks nicely, has a quick bypass toggle if you want to .. let's say a movie player use its own output settings after you've used Breakaway for mp3s.You can fix low volume live/studio/underground recordings with higher Range and less Power to eliminate background noise.Best of all, the presets are perfect. One click can make your NWA or Tonedeff rap tracks boom with bass and retain crisp lyrics - Then flick it to another setting to bring out each and every note of a ska or thrash metal song with clarity.I personally had a track from Eminem, a rare recording of the Rap Olympics battles he did..WOW. Originally it was tinny, drowned in crowd noise and bad recording. I set Breakaway to Magnifying Glass preset and it came out like a CD mastered track! I am in love with this plugin and it is WELL WORTH the fee!Best Hands Down.-SeifPS - Great for troubleshooting/fixing audio errors with driver changes (such as RealTek) that mangle your audio for games music and everything else. One click and Breakaway will automatically override managers like RealTekHD and let you bring wonderful quality sound to your system. (Hell I'm running on a 2 front satellite/1 subwoofer setup left over from a 7 speaker Klipsch 5.1 system from 1997! It sounds better then when I first bought it! Missing 4 speakers and all!) - April 28, 2008 by Seifer Almasy
---
Big Improvement - I've used Volume Logic before, and thought it was excellent, but Breakaway is in a different league. It evens out the levels at least as well as VL did, but also keeps the "punch" of the music -- it doesn't sound like anything the music is being compressed, if anything it things get MORE dynamic.The bass-boost is INSANE too - I'm loving it! - April 28, 2008 by Rick Steiner
---
Masterpiece! - This thing sounds incredible out of the box. I'm a mobile DJ, and different recording levels has been the bane of my existence for as long as I've been doing this.No more! Breakaway is a HUGE improvement to the sound quality of my setup. Thanks guys, good work! - April 28, 2008 by Izzy Benford
---
Didn't work for me - After reading all of the glowing reviews, I tried it. D/L the Windows program direct from the developer's site, installed it, and fired it up with some music, playing through first Winamp, then using another music playback program. with my system, whichis an audiophile sound card and high quality Hi-fi stereo components, and settings of 0 for both range and power (to eliminate any compression or equalization) and listening to classical music compressed with Mp3, I could not tell any difference in sound between this program being on, or bypassed. Then I switched back to my favorite DSP, which is Izotope Ozone, and the difference was dramatic. Ozone works for me. Breakaway does not. It may work well for others with different systems or setups though. - April 23, 2008 by Fred Glavin
---
Bloody Amazing Quality... At A Price - Seriously, this is the most amazing thing I have ever installed on my computer. I've been looking for something like this for years, but I have one problem with it:It devours system resources. Seriously, this thing will eat your CPU alive. If you can handle that, then this is your program.As for the nag screen: I'd like to think that the developers could have done without it. When you include nags it only degrades your consumers perception of your product. - April 19, 2008 by Red McCaster
---
Great!!!! - Makes my speakers sound WAy betetr - April 14, 2008 by wilton aft
---
Not good software - Made my computer crash when I tried to install it! - April 12, 2008 by Morten Andersen
---
The best sound - Very good plugin, i like very much, thank you!!!! - April 12, 2008 by Kittiporn Nonkukhetkhong
---
Nicely done! - Sounds great, installed very easily, and improves ALL audio in your computer, not only Winamp. I cant recommend it highly enough! - April 12, 2008 by Eugene Mikhonkovich
---
Audiophile grade - I was thoroughly surprised when I installed and listened to this in my hifi system (klipsch speakers, carver amp, apogee mini-dac). These guys actually seem to know what they're doing! With Reference Settings, it evened out volume levels really nicely, but without making it sound compressed. It also brought out details in the music and brought out a delicate warmth I have never noticed before, and yet never over-enhanced everything, it made it sound MORE natural, not less.. In fact, the feeling I got was "wow, this is how my music was supposed to sound all along" ...! - April 12, 2008 by Barney McCallum
---
Plugin? - Firstly this is separate piece of software not a plugin. Also plugins dont usually have annoying prompts to purchase full versions.Aside from all that, it didn't work for me anyway. - April 11, 2008 by ian jarvis
---
Great sound - some problems - I agree - the Windows plug in sounds fantastic. Just about the best sound conditioning I've heard. After installation, it can crash Winamp, though, until you configure Winamp's output to use the Breakaway pipeline.On the down side, for $30 you get one license for one hardware ID - and you should get at least two - many people have more than one computer (in my case desktop and laptop) - consumer-friendly companies recognize this now and give 2-3 licenses for their products. - April 10, 2008 by Michael Jackman
---
finally... - an audio enhancer that WORKS, does exactly what they claim it does, and does it with style. worth every penny! - April 10, 2008 by Jethro Janham
---
Music to my ears! - Hands down the best audio processor I've ever heard.. Not just on the computer, but ANYWHERE. - April 10, 2008 by ciraptor v
---
Who knew? - Who knew that my cheap PC speakers could sound so good!?! Incredible product. - April 7, 2008 by Jun Terashima
---
PARTY!!!! - Sound is truely hi-fi and very well mastered, bass boost is INSANE - April 5, 2008 by Miquel Jenner
---
NICE - This one is in a different league from all the wannabe DSP plugins out there, this is the real deal. Well worth the money for anyone who plays music on their computer. My computer is hooked up to my stereo system, and ever since I installed Breakaway it sounds fantastic. - April 5, 2008 by Bruno Park
---
WOW! - So many "audio enhancers" CLAIM to do what this one is doing, but this one really does it, and does it well! All my music suddenly sounds like a professional mastering engineer mixed it. Nice work guys! Can't see being without this one. I LOVE the user interface too! - April 4, 2008 by Sebastian Pamella
---
Impressive Interface - The best a man can get. If you don't like this plug-in, then I don't like you. It's that good...I send many thanks to Leif Claesson and anyone else that made this happen. - April 4, 2008 by Richard Owen
---
Good DSP But..... - This is a good plugin. Directly I heard a difference in my music. It's pretty straight forward to use. I like that you can use it with Winamp closed. But to be honest I can acheive the same sound with the jammix DSP plugin if not better. Not to be bashing on this Plugin, it is great. I could be just being cheap and don't want to dish out 30 bucks on something I can do with something free. Sorry if you like it, just being honest. - April 4, 2008 by Michael Norman
---
Ear Candy - Running the internet based radio station SLAY Radio, using sound sources ranging from professional studio recordings to very bad home recordings is really, really not something you would want to do without Breakaway.It has been nothing short of a life-saver.I also use it for pretty much anything with sound in it at home.Occationally people send me songs they want me to have a listen to for advice. Forgetting to turn off Breakaway usually renders the answer "This sounds fine!". - April 2, 2008 by Slaygon Censor
---
The best enhancer ! - you liked octimax and volume logic, then breakaway is made for you because it is still better!!! Indeed, breakaway is made by leif claesson, it's him even which made octimax and logic volume what is a pledge of quality.The sound is very nice , better than omnia and orban, breakaway respect the sound without distortions. - April 2, 2008 by sebastien wittebolle
---
Better than most ! - This one is worth PAYING for.There are so many junk plug-ins that color and distort the music to the point that you just get tired of listening. This one just plain works! The effects can be subtle for classical music or full blown for mind bending rock depending on your desire, but they are clean. If you've ever been on stage while a good band is playing THIS IS WHAT IT SOUNDS LIKE!Thank you Leif. - April 1, 2008 by Roel cANTU
---
Best DSP Plugin Bar None - This is the best there is. Nothing else there is for Windows that's out there, even from the "leading" audio processing companies of Orban and Omnia, can touch this. In fact, this is on par with the $15,000+ flag-ship hardware from these companies, and the fact that the demo isn't more limited, and the price itself, just seems insane. You're insane Leif. :) I'm very happy just to have been able to help test this, and to have a preset in the software. I seriously un-installed all the audio processing on my daily computer, and Breakaway runs all the time. It just makes everything sound great, for real. And this is coming from me, a full-time purist mastering engineer listening on tens of thousands of dollars worth of equipment designed to reveal with the highest scrutiny when something doesn't sound just right. Breakaway sounds great here, and so I know it'll sound great for you too. Did I mention these guys are insane for offering this so cheaply? Try the demo now to hear for yourself. - April 1, 2008 by jesse g
---
Excellent - It even makes my laptop speakers sound respectable, what more can you ask?this definitely blows other audio processors out of the water, and it's about as full-featured as you could possibly want! - April 1, 2008 by Daniel Garlans
---