>
Plugins

>
DSP/Effect
BMBN for Winamp2
Easy to use DSP plug-in
Easy to use DSP plug-in
BMBN is a sound enhancement plug-in for popular software music players whichimproves the listening experience of played mp3's and other music files. It offers the highest processing quality: 24bit and 32bit sound is supported and internal processing is 64bit! Features bass and treble boost, 3d boost and reverb. It's very easy and intuitive. You get the 6 output device optimization modes and4 sliders to control the amount of every effect. You'll have the access to onlinehelp and technical support.
Download plugin
| | | |
| --- | --- | --- |
| January 9, 2003 by Michal Charydczak | 67330 downloads | |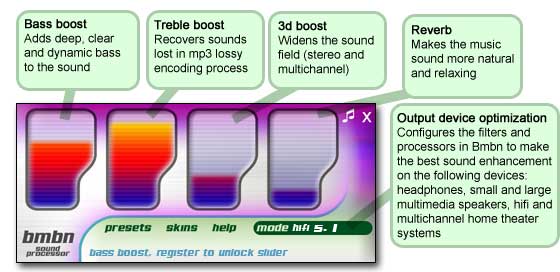 Staff review
Adds extra oomph and sparkle to your music
Nice looking DSP plugin that can really add some kick to your mp3's. Configuration includes six different output device modes (headphones, stereo hi fi, small pc speakers, etc.), as well as different presets and four effect sliders. Skinning is also available. You need to register to be able to control the sliders. My one complaint is that it would be nice if the sliders were actually labled; would definitely make it easier to configure. It also takes a long time for presets to load. Overall, a nice sounding/looking DSP plugin. Also available for Winamp 3.
Comments
Good - Best DFX for Winamp - January 5, 2005 by Josue Jovel
---
POS - If u had a million dollar speakers, this plug-in will make them sound like speakers u find at the dump. This plug-in F*&*ing SUCKS. The 1 star means no stars - February 2, 2004 by loudon ed
---
DON'T PAY FOR IT - IS GOOD BUT, NO THAT MUCH, SO DON?T PAY FOR IT, JUST UNLOCK ALL THE FEATURES WITH THIS CODE 266492-314581-654264-573549 - October 2, 2003 by BABY BOY
---
register for FREE! - Awesome software. Download it now and that's an order. And as much for registering it use this (736756-356408-438438-449461) - September 24, 2003 by dasalias dex
---
There's something fishy here . . . - . . . and it ain't the smoked salmon in my quiche. I can't believe the Winamp/AOL folks would allow an "unlock" code to sit on their review page. I believe its the authors way to make people believe they're getting a "steal" on an otherwise mediocre plug-in. This one is pretty poor compared to some others. For free, you can get "Hi Fi 3 surround Effect" which works much better. For a few sheckles you can get OSS/3D which is far superior or for a few dollars more, iZotopes Ozone, which is better yet. Skip this one. - September 1, 2003 by Dex 4now
---
Kick Ass! - This plugin kicks ass!!! Adds a lot of bass to my music, which I really like. Thanks a lot! - May 12, 2003 by Michael Kryszak
---