>
Plugins

>
General
BlueAmp Hotkey Controller
More than a hotkey controller...
More than a hotkey controller...
Now assign these new hotkeys to any key combination on your keyboard! Hotkey actions include:Rewind, Fast Forward, Type Song, Volume Up, Volume Down, Toggle Display, Toggle Shuffle, Jump To File. ? Extremely Easy-To-Use Hotkey editor.? On Screen Display.? Option to "Start Winamp with BlueAmp" (also detects if Winamp is playing music or not).? Option to "End Winamp with BlueAmp."? Options for "No Display", "Form Dialog", and "On Screen" display methods.? Option to remove multiple internet radio titles from displayed song title.? Option for length of time song is displayed.? Option to "Show Track Time."? Customizable font display.? Options save to registry.? Automatic updates! BlueAmp can now check to see if there's a new version!? BlueAmp can start with Windows.? BlueAmp is speedier now and memory consumption is small.? Many Advanced options.
Download plugin
| | | |
| --- | --- | --- |
| October 13, 2002 by Steve F. | 10626 downloads | |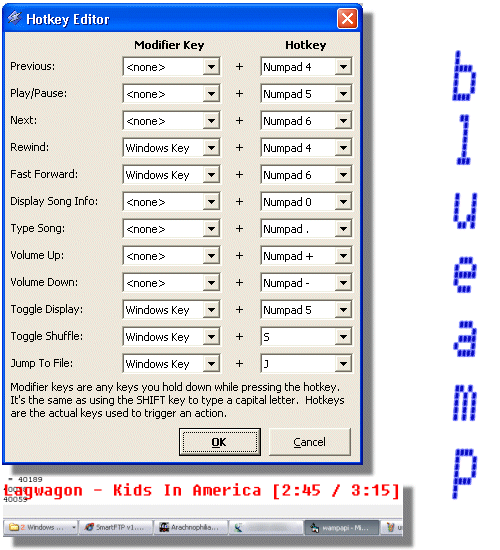 Staff review
Approved
Thank you for your submission.
Comments
Pff, serieusly f***up plugin - I've dl a lot of plugins, and this is by far the most annoying one. First of all, it doesn't do the job! Secondly, it installs a bunch of crap with no purpose. The goal of the plugin is good, but very bad programming. 1star for not leavig the poor programmer without any self esteem ;) - October 18, 2005 by Ken B
---
BlueAmp Hotkey Controller - Exactly the plugin I was looking for. - May 1, 2005 by Caliboe Ray
---