>
Plugins

>
General
BestLyrics_v2
best lyrics finder plug-in ever!
best lyrics finder plug-in ever!
Ever wanted a way to keep your lyrics on cache for later or offline use?The server it's getting slower every day and some times it's impossible to get response because there are too many users trying to get the same lyric again and again?BestLyrics is the solution and it?s freeware!The more people using BestLyrics and keeping on cache the lyrics, the less people trying to re-connect to re-download lyrics making faster access to get new lyrics from the database.That?s not all, BestLyrics in its new version (2.0) has many new features such as changing the font, the font size, colors and lets you Capitalize, UPPERCASE or lowercase the lyrics!!
Download plugin
| | | |
| --- | --- | --- |
| October 1, 2001 by Kronuz MB | 51904 downloads | |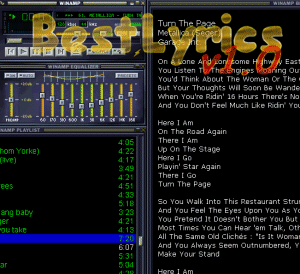 Staff review
View lyrics to your music
The lyrics show up in the Winamp minibrowser... make sure you are using mp3 files that are properly tagged. New version with a good many customization options available.
Comments
PureLyrics - True this was a PureLyrics "clone", if you want to call it that way, but it works a lot better than PureLyrics and has lots of extra features the other program didn't have. Also, BestLyrics is no longer using PureLyrics database as the default, and you can even script new databases. Best of all, BestLyrics DOESN'T show any advertising and up to this day it's still FREE!! This version in www.winamp.com might *not* be updated, you can always get the most recent version from http://bestlyrics.sf.net/ - April 18, 2005 by German MB
---
Good prog - Excellent App, works as promised for me.. - April 24, 2004 by Terry Matthews
---
sux - horrible application. - January 21, 2004 by Jeremy Roberts
---
A PureLyrics Clone ! - And because PureLyrics doesn't work, this plugin doesn't work too... - July 31, 2002 by Manu Devil
---