>
Plugins

>
General
BCF2000 controller
Control Winamp using midi controller
Control Winamp using midi controller
Control your Winamp using midi controller with Baby HUI protocol. Designed to use with Behringer BCF2000, but it shall work with any Baby HUI controller.
Download plugin
| | | |
| --- | --- | --- |
| July 28, 2005 by Petr Neubauer | 15526 downloads | |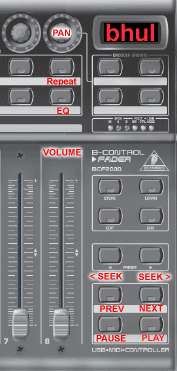 Staff review
Midi controller plugin
I can only assume this works since i don't have the controller its meant to work with. The preferences for the plugin is a bit confusing since it doesn't seem to have any use that i can see...
Comments
Pretty cool... - The fact that I own a BCF2000 made me try this controller and it does exactly what it promises...I wish setting up where not so complicated ... turning on and off other controllers messes up the deviceIDs and the next time you start winamp, it doesn't work any more.I wish there were a winAmp-controller for my Tranzport... - June 10, 2008 by Peter Timo
---
waxi - waxi - July 14, 2007 by waxi vaca
---
Tharts what ive been waiting for! - Hello Petr! You did a great job. It worked flawless from the 1st installation. The only thing that has to be mentioned: If the BCF is not recognized by Windows (reason: mine was in standalone-mode) the plugin is not displayed under the installed General-Purpose plugin list even if it is installed correctly. Also: if you are planning a new release think about a customizable mapping. Thank you for this great plugin. - June 11, 2007 by Arne Stmges
---
Almost great... - Firstly thanks for giving me yet another use for my BCF2000. This plugin does exactly what it says it does. What more can one really say? Well...the reason I only gave it 3 stars is because of the fact that it only works in BabyHUI mode. I don't use my BCF2000 in BabyHUI mode so although that may be convienient for you it is not for me. If you were to add support for other operating modes, default mode in particularly then I would give this plugin 5 stars as it does exactly what it claims to do with no fuss. - September 30, 2005 by Tristan Ward
---