>
Plugins

>
DSP/Effect
AudioProc Lite Multiband Processor
Simple high quality audio processing for Winamp
Simple high quality audio processing for Winamp
AudioProc Lite is a simple-to-use, high-quality multiband audio dynamics processor for Winamp that utilizes the same DSP engine as AudioProc, but with only four controls: Processing Type, Bass, Treble and Density. Your music will be enhanced to provide more loudness, punch and consistency in volume and spectral balance. Dull or quiet material will be livened up, and excessively edgy or loud material will be softened and tamed. The result is a warm and bright, non-fatiguing, properly balanced and artifact-free sound that resembles the competitive 'on the air' sound signature of major market FM radio stations. This plug-in caters to those who want simplicity!!
Download plugin
| | | |
| --- | --- | --- |
| March 3, 2009 by Clay Hellman | 34629 downloads | |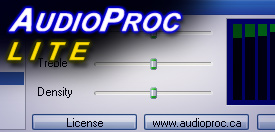 Staff review
Add loudness,Punch and clarity !
This Plugin is a 15 day demo version so if you like it you must purchase it.This is a light version of the audioproc dsp plugin but dont be fooled into thinking that this means it is limited when it comes to sound processing!The simple to use interface allows you to use the included presets to add punch,clarity and loudness to your music.Also allows you to adjust bass,treble and density,which helps you to craft your final sound.Bring out the maximum level of your music collection without having to constantly adjust the volume level.
Comments
Awesome! - This is probably the best DSP I have ever installed ofr playing MP3 files. It even beats the fantastic Jammix. It's really simple to use - you just choose from 1 of 5 presets, including Enhancer, FM radio, Web radio and Normalizer. I find Enhancer is all I need. (However, if you want to play around with lots of different settings, you can also get the full AudioProc DSP, although fun, I found it unnecessary - the presets give me everything I need.) I have 12500 MP3 files from an incredibly wide range of sources including FM radio, AM radio internet streams, ripped CDs and so on. What APL does is compress and manipulate the sound so that everything comes out evenly - volume is perfectly normalized without totally destroying the dynamics of the music and without the "muffling" compression so often causes. The makers claim APL "utilize[s] the same multiband compression/expansion/limiting technology that expensive professional broadcast hardware is based upon." And it certainly sound slike it! Audio is totally consistent, crisp and punchy across the board and you will never have to reach for the volume knob again. The only downside is that after a trial period you have to pay a license fee of $20 ($40 for the expanded version), but I was so incredibly impressed with APL that after my trial expired I didn't hesitate for a minute to cough up the twenty bucks to get this. My music collection played on my 5.1 surround system sounds simply awesome thanks to APL! - April 3, 2009 by Daniel Zielwolf
---