>
Plugins

>
DSP/Effect
AudioProc Broadcast Audio Processor
High quality broadcast audio processing for Winamp
High quality broadcast audio processing for Winamp
AudioProc is a high-quality, expert-level audio dynamics processor for Winamp that utilizes the same multiband compression/expansion/limiting technology that expensive professional broadcast hardware is based upon. Your music will be enhanced to provide more loudness, punch and consistency in volume and spectral balance. Dull or quiet material will be livened up, and excessively edgy or loud material will be softened and tamed. The result is a warm and bright, non-fatiguing, properly balanced and artifact-free sound that resembles the competitive 'on the air' sound signature of major market FM radio stations. Fully configurable with over 300 controls!!
Download plugin
| | | |
| --- | --- | --- |
| March 3, 2009 by Clay Hellman | 68671 downloads | |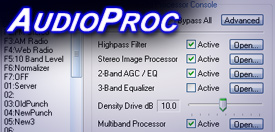 Staff review
Make it loud and clear !
This Plugin is a 15 day demo version so if you like it you must purchase it.Overall does exactly what it says it does.You can achieve that loud FM style sound you hear on your radio when listening to your favorite station.You can control almost all the aspects of your final sound with this plugin.Bring out the maximum level of your music collection without having to constantly adjust the volume level.
Comments
Great program !! - Audioproc works great for audiobroadcasting or as i do for a drive inn disco.The support by Clay himself is great.Many thanks for writing this wonderfull and powerfull program !! - August 8, 2009 by djmve
---
Go On, Give AudioProc a try. - Ok, I know you have to purchase this after 15 days. But I think it is worth it. I have been using the trial version of AudioProc with Multiple DSP by Peter Horvitz. Thank you Peter for Free Multiple DSP. I run AudioProc with DFX by Soundspectrum with it. It is a huge amount of fun tweeking the audio controls in AudioProc and there are a lot of them.I use all of this in conjuction with a Creative 5.1 X-fi soundcard. The 10 Band EQ. in AudioProc works remarkably well with the 10 Band EQ. in Creative X-fi. One small negative for me was Audioproc seems to not let Winamp switch tracks well when switching tracks manually. There is a clitch in sound when switching tracks manually in Winamp, But it doe's great with the crossfader in Winamp. Over all AudioProc seems to be a great Dsp. Free for the next 14 days. Tom Spencer Music4allofu - April 21, 2009 by Tom Spencer
---