>
Plugins

>
General
AudioCover
Display cover for current playing track
Display cover for current playing track
With this plugin you can:- automatiacaly download and display covers from internet- display covers directly from tracks (ID3Tag)- display "folder.jpg"- edit damaged covers (crop, rotate etc.)Supported files: mp3, wmaSupported winamp versions: 2.9+, 5+v1.2- updated search engines- fixed reported bugs- display front and back cover at the same time- some improvements
Download plugin
| | | |
| --- | --- | --- |
| October 20, 2006 by Jaroslaw Bialkowski | 85746 downloads | |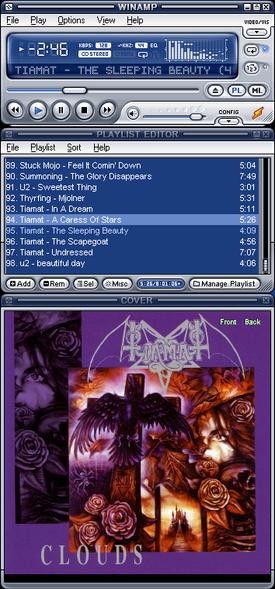 Staff review
Cover art
This worked well with the test files thrown at it and it handled missing album covers reasonably well. The ability to view the front and back covers was good though being able to view both at the same time would be nice. The only issue is that scanning for some of the coverart took longer than experienced with other implementations. Overall this made a good impression.
Comments
I like it - It`s a very nice plug in!! - March 13, 2008 by Markus Rhle
---
Would be perfect if - It was more versatile, like being able to pull the picture from the album directory itself or allowing the user to specify the "other" picture type as the front cover. Many files you get are this way. - October 17, 2007 by Abarabusto Barker
---
Very Good - One small problem - Very Good plugin, only one small problem that would be good to be fixed, when the Album title contains a single quote ('), the Album Cover cannot be found.Thanks!!! - September 14, 2007 by Panagiotis Kimouris
---
work well... - I use this plug-in about 8 month with no problem. Good job Jaroslaw! - August 20, 2007 by Blint Horvth
---
Just what I was looking for - Installed fine and works great. Thanks Jaroslaw! 5 out of 5 - July 14, 2007 by Ghost Rider
---
A Real Shame! - Attention: Jaroslaw Bialkowski - I installed this plugin on Winamp 5.35 and then I sadly uninstalled it. This plugin reads mp3 tag information, and if the tag fields aren't complete the plugin doesn't bother looking for album art, even if your file folder has a folder.jpg image in it! If you're like me and you customize your mp3's tag information to suit your individual taste, then this much desired plugin only makes you feel left out. I have edited over 5,000 mps'3 by hand and since my tag fields aren't all complete this plugin is useless. If this plugin was capable of not reading the mp3 tag information, then it would achieve it's designed intent. Please remove this programming bug! - July 9, 2007 by Joe Bob
---
Finally I see my cover art - Gr8 plugin, shows ID3V2 tag's album cover as well as folder.jpg in the same directory. - July 4, 2007 by Gnther Wannenmacher
---
Great little thing! - It took me less than 30 secs to download, install and restart Winamp. And there it was! AudioCover simply adds a window in - June 18, 2007 by az frankie
---
This is what I want, if it worked - This only finds about 50% of my album covers when it searches, which may say more about my music collection than the plugin. Of more concern is that for upwards of 90% of my albums it does not even search. It gives the message that the album and artist fields ae not complete in the id3 tag. When I double check, they are. - June 8, 2007 by Lee Broderick
---
Sweet little plugin... - ...installed/loaded cleanly, and the only hesitation in the appearance of the cover seems to be the speed of searching and/or the link you are using. Very tidy with good integration in skins. - April 16, 2007 by Stephen Marshall
---
Excellent ! - Try it and adopt it ! A suggestion add amazon in the search list. Thanks. - April 8, 2007 by Jean SEYS
---
Would own without the bug - Very nice and useful plugin. Everything works fine, except the switching of id-tag covers, at least on 5.3 it does idd lead to freezing of the cover window. d:/ Hope for a bugfix soon, would have 5 stars for sure then \o - March 29, 2007 by Abi S.
---
THX - I really like this plugin, because it stores the covers on my HD. THX - March 25, 2007 by Bi0 Ha2arD
---
Cool - This is cool...just had a quick play with it and it\'s found 8 out of 10 covers! Nice work. - March 17, 2007 by John .
---
Very big problems in Change Covers - With Winamp 5.3 this plugin not work... The Covers not change, stay only the first ID2 Tag cover can show, and no more change. Not download this, search for another. The creador need to make a FIX for this great issue, until no new release, please dont download or this will crash your WINAMP every time you try to change anything in options. Or change from Video to Plugin. - December 31, 2006 by SiT Wulf
---
Ya - Like it a lot, 'specially being able to view back and front. However, I'd like to be able to add in covers manually in case it can't find them on the net. Placing a folder.jpg in the album directory works for the front image, but I can't figure out how to add in a back picture. - December 31, 2006 by Basch Ammerlaen
---
Freezes on skip - Nice little tool, and I love the giant cover art that it downloads to a user-defined directory. But with my Winamp 5.3 I found that the pluging just froze as soon as I clicked on the skip button to hear the next song, leaving the old cover art there, frozen. - November 30, 2006 by Stein Mathisen
---
Good Plug-in - thank you for create this plug-in, winamp need show covers. very simple, estable plugin. recommended. - November 19, 2006 by sick _
---
Doesn't change picture - I am running Winamp 5.3 and when it starts it loads the cover out of the ID3v2 tag but when the song changes the cover picture doesn't. But if I select full screen the cover picture is there not in the regular window? Anybody know what is wrong? - November 17, 2006 by No Hart
---
Endlich! - I was searching for something like that a long time. I like it! - November 16, 2006 by Jens Polze
---