>
Plugins

>
Output
Audioburst FX System 2
FREEWARE
FREEWARE Professional Output System
The completely FREE professional output plugin from QO Labs. Features include:

- Fully configurable resampler, optimized for 3DNow! and SSE/SSE2.
- Smooth crossfading, implemented using 32-bit internal precision.
- Fast and accurate spectrum analyzer, rendered with anti-aliasing.
- Option for audible beep on certain actions / events.
- Support for specially designed DSPs, such as Audioburst PowerFX.
- All option changes take effect immediately, with no noticeable delay.

Download now to experience a robust, responsive and effecient audio playback system.
Download plugin
| | | |
| --- | --- | --- |
| October 20, 2006 by QO Labs | 203155 downloads | |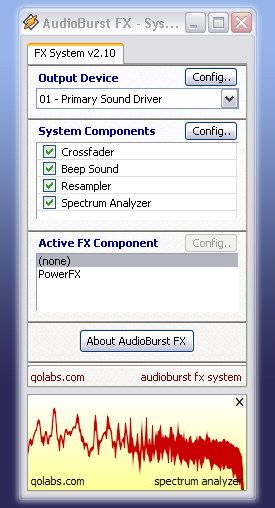 Staff review
Alternative Output
The output with this on the test system was good and this plugin comes with a plethora of options (some are feature locked in this free version from staying set but you can test out the effects). The main drawback with this plugin is the size of it especially when compared to some other output plugins which provide a number of this one's features.
Comments
Just the best output plugin with gapless playback :D - June 25, 2010 by Teufelstein
---
perfect output plugin - cannot fault this one bit, does everything i want in a output plug in it gives me the warm-sound that my amp doesn't natively and does it all without peaking and being easy to use!! ***** - September 30, 2009 by bigtooly
---
Superb!!!!!!! - Hey,this seemed free enough for me!!!!Where did the 13$ come into the picture?!!!!Great plugins gives a good bass and sound never seems harsh in it.Even greenday songs sound much warmer in it!!!!!!! - January 8, 2009 by Saurab Rao
---
Sweet - AudioBurst FX is the main control module in charge of the two other available QOLabs plugins (Studio Sound FX and PowerFX). It can also be used by itself. Lots of cool functions and information available in this. The spectrum analyzer is a work of art in and of itself... makes every other analyzer I've seen look like junk. - November 8, 2008 by Rocky Czaplewski
---
Excelente! - Simplesmente espetacular! - October 13, 2008 by roberio matos
---
FREEWARE? - Just by looking at this I can tell it is great! I know it can really make my music sound better, but you said it was completely free, and I have to pay $13.00 to use it. I'm pretty sure $13 IS NOT free. $13 is $13. - October 28, 2007 by Andrew NA
---
trojan - Nice...it came with a free trojan loaded and ready to infect. Nice...NOT - October 10, 2007 by nock wood
---
Doesnt make it louder. - I was looking for a software program to make my media louder, without reformating it as i don't want to lose any quality, but it makes my music sound amazing, and all of the pree processing things make it smoother and hickup free unlike windows media player, all customizable aspects are easy todo and to configure. Cons: doesn't make it louder, =P - August 3, 2007 by jake munoz
---
Super cool but... - The sound is superb but this plugin has a problem with amd cool&quiet, if i have that actived the sound skips from time to time when i browse files etc. Hope they will fix it. - July 14, 2007 by Carniol Dragos
---
to expinsive - to expinsive, not usefull - July 12, 2007 by Kilian Phoenix
---
Ripoff - Doesn't enhance sound quality at all. Unless you pay. Too much options, none of them really useful without the paid version. I had an older version which I sort of liked now I wiped it out. - December 9, 2006 by raindog mx
---
first time - this is first time - December 5, 2006 by robert pearson
---