>
Plugins

>
DSP/Effect
Audio Compressor DSP
A simple audiocompressor.
A simple audiocompressor.
To compress audio for FMSTEREO transmitters and other. It has a AGC unit inside...and a 4 Band Compressor...Still beta...Some bug fixes.Increasing to full device... ;-)
Download plugin
| | | |
| --- | --- | --- |
| August 25, 2002 by Jorge Ferreira | 64660 downloads | |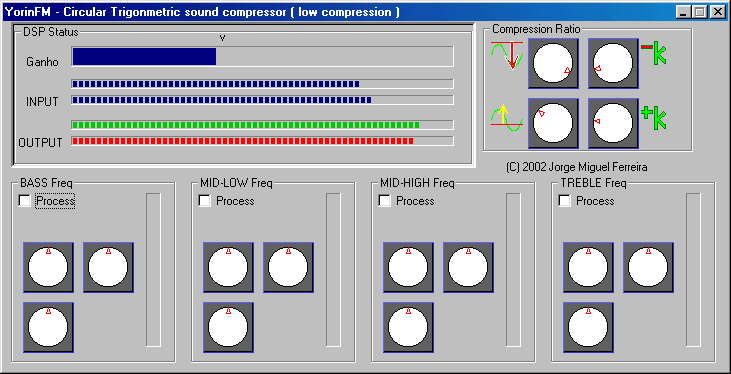 Staff review
Audio compressor plugin
Fairly straightforward dsp compressor. Can be used to squeeze a little more juice out of your music. Unfortunately, the knobs aren't labeled as well as they could be, so if you're not very familiar with compressors, it might be a bit hard to tweak following the symbols. I noticed that after tweaking one knob and changing the sound, if I then turned the knob back to it's original position, the sound would not return back. I had to restart the plugin to get it to work again.
Comments
FANTASTIC PLUGIN !!! - i would have rated it 5 stars, BUT : -the controls do not have labels -when a control is decreased, to re increase it you have to re-start the plugin -the plugin does not save the preset and restarts with the defaults -the plugin cannot be minimized 4 more issues to resolve and develop the perfect on air DSP plugin. - March 27, 2004 by Andrei Constantin Iancu
---
good start to a great plugin - I really like what it did after knowing the kwerks. It needs lookahead on the MBcomp and limiter & the thresholds are weird. But ill be watching this one. - January 14, 2004 by jesse g
---