>
Plugins

>
DSP/Effect
AmazingReverbV2
Amazing reverb V.2.0 by AmazingDSP Inc.
Amazing reverb V.2.0 by AmazingDSP Inc.
Amazing Reverb V.2.0 for Winamp player 2.xx is a 'real-time' DSP plug-in that combines a good composition of manipulation and dynamics over the way you reverb your sound. Produces a more realistic sound in 'real-time' designed to allow more controllability over the sound environment without excessively consuming CPU time. Hence, more CPU power can be gained. It includes a number of Realistic models of rooms and parameter controls which resemble wall settings, room size and space. Unlike it's predecessor, it offers more room models, better stability and has a better GUI then ever before.
Download plugin
| | | |
| --- | --- | --- |
| May 21, 2002 by Tarek Nahas | 133176 downloads | |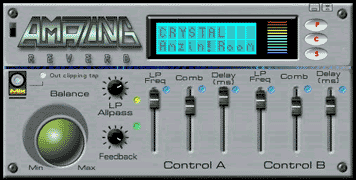 Staff review
Nice looking/sounding reverb plugin
Very easy to configure and tweak to get just the right reverb setting. Includes several presets and the ability to save new presets. The reverb amount knob is very useful... allows for you to add just a touch of effect if that's all your after. I encountered some clipping and audio breakup with some of the presets... running win2000 on an Inspiron 1ghz laptop.
Comments
[email protected] - HiI tryed this im useing vista 64 bit had problems,hade to delet it, do U have a vista your working on?and it said something about U need money for it is right? I thourght it was free, maybe im wrong,any way it looks good be bad i cant get it working on my system.love from Joseph - October 22, 2007 by Joseph Guarini
---
Nice plugin, but.... - I can't believe that after I downloaded and installed it, the plugin quickly displayed that it is a DEMO! It only works for 15 days! I HATE PLUGINS WHICH ARE NOT FREEEEEE! - June 7, 2004 by Bobby Graham
---
Mixed Bag! - Overall the effects are good, but there is occasional distortion/clipping. The control settings are calibrated in % (% of what?), which is illogical. Should be calibrated according to function (seconds (s) or milliseconds (ms) for time function, decibels (dB) for volume or level). Has potential but needs more work. - May 22, 2003 by Peter Bahniuk
---
Great reverb. - I really liked this application, it is easy to configure and it is truly exceptional. It does wonders and creates a nice warm sound. So far, I?ve recommended it to all my friends and I recommend it to anyone. - June 9, 2002 by Garry Quinn
---
It's Truly Amazing - It?s true, it definitely made my day and so I bought it and contacted Amazing DSP for more information they?ve told me that the next coming minor versions are free. So I decided to write a review and say "Keep up the good work" Jessie - May 25, 2002 by Jessie Webber
---
Awesome Awesome Awesome - Awesome Awesome Awesome posted on May 25, 2002 @ 13:57 PM I?ve done work here and there and worked with Reverb units, compressors and the works in professional studios. To see these units in software, sounding good and pick them up for less I got 2 admit is awesome man. Let?s see where these guys are heading! - May 25, 2002 by DJ, Bob
---
Name says it all! - It is excellent - great effects, huge number of options!!! - May 23, 2002 by Jose Pena
---
Blah - It Still Sucks!! - May 23, 2002 by Jennifer Guyton
---
I Just Love it - Great plugin at a great price!! - May 22, 2002 by Hanibaal Diab
---