>
Plugins

>
General
Album List
this is v1.43
this is v1.43
Updated to v1.43! In a nutshell, Album List takes your organized directories and turns them into an easy to use list.
Download plugin
| | | |
| --- | --- | --- |
| March 9, 2001 by Safai Ma | 121957 downloads | |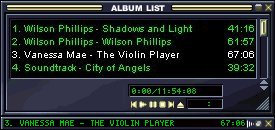 Staff review
Creates single tracks out of albums
Cool plug-in that allows you to play albums as you would a single track... gives you the total time readout as well. Skinnable window keeps things spiffy and visually consistent. When you play an album track in the Album List window, the tracks all appear in the Winamp Play List window...so you are still able to browse by track. Solid plug-in. -dg
Comments
Great! - Thank you for this wonderful plug-in. This is just what I was looking for; browse a directory and have the album play in order of songs via ID tags - great :) - September 27, 2006 by MC E
---
Thankyou thankyou thankyou! - I didn't know it, but this is THE plug-in I've been dying to get ever since I started using mp3 players. Being able to shuffle up my albums without disrupting the song order is what I most miss from my old CD days. Thanks again for a fantastic plug-in! This should be in the next winamp release, all we need is to integrate the shuffle play function next... - August 7, 2005 by Ben McBride
---
well written but - When I load up my directory of .m3us, it doesn't display the titles. I strip all the id3 tags from my files, so the album titles aren't displayed. A filename check would be sweet. Other than that, I really like the plugin. - April 19, 2005 by tr 67
---
nifty - works fine for me. thanks - November 27, 2004 by arT2 .
---
Love it - Great plug-in! Its so good i even took the time to register here and rate it. :) Solves all my problems. A must if you have many mp3 albums. Integrate this one into the next ver of winamp! - September 10, 2004 by sdsd sdds
---
No skins for winamp 5? - Exellent plugin. However the skinning doesn't work on Winamp 5? - July 5, 2004 by dario v
---
a must have - top notch. i\'d like to see this implemented in the next winamp - March 11, 2004 by Richard B.
---
Far better than .m3u Playlists - A total must have for Winamp! Been using for two years, 1000% pleased with it =^D !! Unlike .m3u playlists, you can change file & folder names, add and delete files from a folder (ex.- you get a newer issue CD with bonus tracks, and you add those to the folder), and Album List will refresh the folders on the next Winamp startup with all of your changes in place (OR you can click 'refresh' if you have added tracks to an MP3 album folder while Winamp is playing!) This is a HUGE advantage over .m3u files, change ONE file or folder detail and the .m3u file is invalid and you have to create a new playlist! The Winamp 2.9x Library (basically a copy of Windows Media Player's library) is dependent on .m3u files, Album List is not. True, it's nice to preview .m3u's in the 2.9x Library, BUT if you primarily listen to albums in their specified track sequence, you won't NEED any .m3u files if you have Album List! - November 16, 2003 by Daven Anderson
---
Best plug-in - This is a very good organisational tool for those who have loads of mp3's. You can use transparency even on win 98, just look through the readme, you have to edit the plugin.ini which is not that difficult. Great work. - July 16, 2003 by James Field
---
Beautiful! - You have no Idea how long I have been looking for something like this... I have over 400 albums, so organizing them is a major pain, but this does it beautifully... Thank you!!!! - June 22, 2003 by sensei sensei
---
Lime green font sucks - The plugin is great, but I can't change the font color anywhere! Default green color looks so ugly with my skin, so.. the plugin needs a fix to that :) - March 5, 2003 by Pelle Hermanni
---
COOL - It's very very GOOD I love it!Chebra siuskites cia tikras APARATAS! - February 23, 2003 by James Bond
---
Really Great!!! - I can never install winamp without this plug-in it and milkdrop allways make my winamp complete. Peace - January 19, 2003 by OpiumHore a.k.a. ->Project - 2501
---
THE Necessary General Plug-In - Multi-format, mult-optioned, and efficient. Just try Album List and you'll find that your on-disk listening begins to center around this plug-in. - July 18, 2002 by Murrell DeFrance
---
bug - this thing works awesome, its really easy to get to ur songs but the problem is wen i pic a album from it my enhancer and other effects dont work. fix that and ull get 5 - July 12, 2002 by jake mandy
---
one of the best - it will help you very much when you want to listen to a special band or album! - June 12, 2002 by Merlin Schumacher
---
Cool plug - It's a very good plugin, which is well integrated into skins. And it's works well with my remote control. A must !!! - May 27, 2002 by dams Arcant
---
Good plugin! - It's very helpful in organizing huge collections of mp3. And it's skinnable. There shoulb be an option of showing all songs in a tree-mode and not only titles. And sorting should be improved. But I give 5 stars - hoping that authors correct those small problems shortly - April 16, 2002 by Mario K
---
I can't live without it... - Greatest plug-in ever... If you have lots of albums, for you this is very handy plug-in. - March 12, 2002 by Valtteri Arino
---
10 points! - This plugin should be INTEGRATED to the original Winamp setup, there's no reason to keep it as a separate plugin. For many users it is a "must be" part anyway. My collection contains around 4000 mp3's, without this plugin I had a total mess. - February 11, 2002 by Omar ibnDaud
---
To bad... - ... that the author isn't planning any updates, 'cause now I've used the 3 latest version and the work like a charm. Really nize when you have 120+ albums. - January 8, 2002 by Dennis Langthjem
---
G R E A T - It?s a great plug in, now it?s easier to me to listen my 2247 mp3s collection. I don?t understand why the author did not consider sub-directories browsing. - December 5, 2001 by caito sanchez
---
Freaking A - This comes in real handy with my new 100 GB HD! :) - December 1, 2001 by Jason Russell
---
Da'Neil - The best plug-in I've ever seen to access my 10G collection. Usin' it there's no need for me to open single files or playlists - all my music is listed there. - October 16, 2001 by Dan Ovsiannikov
---
Killer Plugin - For anybody thats got a huge mp3 collection this plugin is a must have, if it wasn't then they wouldn't be including this functionality in Winamp3 :) - October 12, 2001 by Robert Gould
---
Best Plugin Ever - AlbumList was the deciding factor for me to use WinAmp. It should be a standard part of WinAmp, I couldn't imagine not having it. It uses the playlist skin, or can be custom-skinned. It effortlessly integrates the directories you store your mp3s in. Download it now, you won't be disappointed. - July 15, 2001 by Charles Beynon
---
Just What The Dr. Ordered - I am a very long time user of winamp, and hated the fact that you couldn't display album names easily, short of creating a billion m3u files in the one directory, ahh, I mean folder. Winamp3 has it, but it doesn't quite work as well, yet :) This little baby is the answer to my need. Very easy to use, very nice, if you need access to your albums in winamp while still retaining the winamp almost-patented ease of use and style, this is the one!! - June 17, 2001 by Jeremy McKay
---
Very slick! - I will never understand why Winamp didn't give this plugin 5 stars. It docks to WA & all WA's windows, skins itself effortlessly, organizes your music collection with a configurable directory style, and damn it just feels like part of Winamp. Nullsoft should wake up and realize this is a plugin worth promoting on their plugins intro page! - April 13, 2001 by Clay Stallard aka Haywood Jablomi
---
Mother of ML - I do not have so useful plugin. DL it NOW !!!! - April 1, 2001 by Gazirana Voda (Vulchev Dancho)
---