>
Skins

>
Sports/University
Virginia Tech Modern Skin
Virginia Tech Skin, Go Hokies!!!
Virginia Tech Skin, Go Hokies!!!
What is a Hokie? If you have to ask, this skin probably isn't for you.

This Virginia Tech themed skin has:

6 color themes.

Customizable display that cycles between the Equalizer, the Thinger, the Visualizer, and a "Let's Go Hokies!!!" animation featuring the nation's best mascot.

Color selectable Visualizer.

Fully-skinned components.

Compact-yet-functional shade mode with a drawer-like playlist editor.

Much more, check it out for yourself!


(Updated for Winamp 5.05)
Download skin
| | | |
| --- | --- | --- |
| January 25, 2003 by Frisbee Monkey | 344696 downloads | |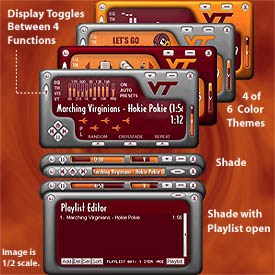 Staff review
Virginia Tech is still alive and kicking.
In more ways than one. :)
Great, very usable skin.
Comments
Very nice work on this skin. - I bet this took sometime to make very nice work and detail.Can you do a michigan wolverines one.lol - November 4, 2007 by Chaz Collins
Esta bueno - Sencillo y bueno quien diria - January 23, 2007 by Javier Garcia
problem with shade mode - Whenever I go into windowshade Mode, Winamp stops responding and it says there is a problem with the script "docking.maki" - April 18, 2004 by Mikey mahar
Fantastic - I am really found of this skin compared to the other one for WA3.... still there are some imrpovement to do on it. Like some letters which don't show (generally all letter that are not recognized by the basic font of Word), and some small stuff. But it is good looking and easy to use. Cheers. - November 20, 2003 by thomas roche
AWESOME!! - WOW! that's all I need to say. I love the color schemes, and what better way to show pride! - November 18, 2003 by Mark White
what the hell happened - I think this guy programs for microsoft! One thing do, he forgot the control+alt+delete for when it crashes...... - September 24, 2003 by Andre Hope
Awesome - Great skin for THE ONLY university in Virginia - September 6, 2003 by Meg King
THIS IS SWEET!!!!!!!!!!!!! - I love VTech i never can find anything with VTech. Finaly ive got somethin that has VTech. Best skin yet - August 27, 2003 by Eric Sweet
Very nice. - Wow. This guy is just plain bitter that UVA is too damn stupid to make their own skin. Competence. What seperates a Hokie from a wahoo. Artistically. It could go a little easier on the grey. - August 5, 2003 by Brian H
Ugly color scheme - Maroon and orange? Adding gray doesn't help so much. And it should come with the theme to Deliverence playing as it starts up. Also, this should go under "Sports," not "University." No one really thinks Tek is a center for higher learning. Do I need to say it? Wahoowa! - July 17, 2003 by James Maxwell
Terrific Skin - While combining the traditions of the Hokies, the author has put in all the features in a very smart way. Great!! - July 2, 2003 by Ravi Devarasetty
GREAT VT SKIN - wonderful skin!!! LOVE IT!!!! - June 8, 2003 by Rachel Mikulas
VT for Jealous Bob Franks - TASTEFULLY done Skin. If Bob is of age, obviously Mr. Franks does not have the scholastic aptitude to get accepted into VT; hence jealousy causes bizarre behavior. If Bob is to old, VT probably just finished beating up his almamater. If Bob is not of age yet, just keep to the books, and one day through enough hard work you will gain the intellectual capacity to get into VT. Good Luck BOB. - June 7, 2003 by BooBoo Bear
VT - Great VT skin, neat, clean and it works with perfection. The GO HOKIES and turkey tracks are signs of a proud HOKIE. - June 3, 2003 by Woody Woodruff
Go HOKIES!! - Great skin! Lots of great little touches make it truly unique - btw, I don't know what Alessandro is talking about, you can chose to display the stop button or hide it (option for several other features), it's not missing or hard to find. And it's got the Hokie Bird, what more do you want? - March 18, 2003 by nicole mammarella
5 stars, best till now - Excellent, best skin up to now, could be nicier, but it has all and it doesn't look bad, I can say it even looks good hehe - March 13, 2003 by Pedro Zubiri
Excellent Skin - The college bashing is irrelevant, Virginia Tech is one of the many fine schools in the state of Virginia - This skin represents the school well. It is a streamlined and elegant skin which conveys Hokie Spirit in 6 different ways. - February 26, 2003 by Bryan Graham
this rocks. - hey, i'm just getting used to winamp 3. but this skin rocks. GO HOKIES!!! - February 15, 2003 by brooke r.
message for bob frank - Let me guess, you're a wahoo. Or maybe just someone who's favorite team got pounded by the best team in college football. Either way your opinion sucks. Maybe you should join a winning team. By the way the skin rocks. - February 14, 2003 by Dayton Poff
Go Hokies Go!!! - Great skin! I was getting worried that I would never find a Winamp3 skin I liked, and this one is perfect! The buttons even do what they are supposed to, a real problem I've been having...Thanks! Aiacha ('95) - February 10, 2003 by Andrea S.
VT sucks - why would anyone in their right minds want a VT skin? VT is the worst school for a bunch of hicks and inbreds. Whoever has downloaded this skin should burn their computer for ever downloading a hideous skin like this. - January 16, 2003 by bob frank
Great Colors, Great VT skin... - The author seems to solved all the problems listed so far. The STOP button can be activated by clicking on the VT logo that brings up the option. I personally like the different Hokie color combinations! Also, it has NOT crashed my Winamp at all. Great Skin! Go Hokies! - January 8, 2003 by Jiten Maheswary
Not bad. - :) Quite cool. Two minor gripes, but hey...this skin is tight! It feels good to be a Hokie ('05)! - December 14, 2002 by Derrick Carpenter
Great skin--but it crashes - Finally somebody made a skin that actually looks good and appears functional. However, as was previously stated, it crashes when you try to load it in. I hope it gets fixed soon, but don't rush it. In the meantime, I'll be using MMD3. - December 2, 2002 by Alexander Clark
Great Skin but defective - Im not a VT fan but this skin looks great! I would have given it 5 stars but it crashes. Fix it and youll be ok. - December 1, 2002 by Mike Schwab
0-3... anyone else notice? - Has anyone besides me noticed that the Hokies have yet to win a single game since this skin was released? - November 30, 2002 by Harris Kauffman
Unable to download - Locks nice but i cudnt download it. BTY i am VT grad - November 17, 2002 by Shrinivasrao Mane
Bugged? - This skin is awsome and i think the easyest to use out of all the skins, however after a hour of use it crashed on me and can't turn it self back on w/o crashing, is there some solution? some one tell me!!! - November 17, 2002 by Glenn Eckmeier
Bugged? - Skin looks good on the site, but it crashes WinAmp every time I try to load it. - November 11, 2002 by Nick Kaminski
Virginia Tech Winamp3 Skin - Just looking great...please keep on working,if You can find time. :-) - November 1, 2002 by Ole Hansen
Is it just me? - Maybe I'm blind, maybe I need to experiment a bit more, but I'm missing a 'Stop' button on this skin. Otherwise I really like it, even though, being German, I don't know anything about the Hokies ;) Good job! - October 30, 2002 by Lobert Regina
Hey Loco Mono - Hey Eric sweet skin, I am going to spread this around campus. The different theme colors is a pretty sweet idea. - October 30, 2002 by Andrew Mericle