>
Skins

>
Games
The Official Lara Croft Winamp Skin
Featured Skin, May 1, 2003.
From the Tomb to the Boom, get down with Lara Croft! The makers of Tomb Raider bring Lara Croft....Audio style.
Download skin
| | | |
| --- | --- | --- |
| May 7, 2003 by Eidos Interactive | 644027 downloads | |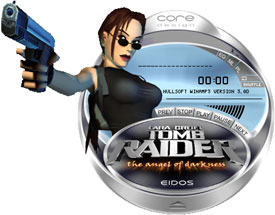 Staff review
Lara Croft in a new dimension.
Next thing to do: Convert Tomb Raider to NSV format and watch with winamp3 properly outfitted with this skin.
Comments
This is a real skin !! - as a lara follower i think this skin is really great, with cool flame letters and the buttons very well distributed, easy to use, not like others... looking for the 'play', easy to use, great to the sight, and lara in the background, what more can i ask? :)very nice work - July 6, 2007 by Cyrus Virus
Very good! - This is an excellent WinAmp skin!! I'll definitely use this for a long time!! - September 13, 2005 by Janiina V
Cool Skin - I love everithing about Lara Croft - January 21, 2005 by Dalia W
I agree - I agree with fig 11 11 but that doesnt make a skin - April 7, 2004 by John Dettling
good but not good enough - shes gota great rack but that wont do - November 8, 2003 by fig 11 11
babyface487 - I really like this very much. i am glad that i ran into the site. thanks - October 16, 2003 by Rebecca Chapman
I love Tomb Rider - cool! =) - October 11, 2003 by Katya Litvin
Lots of small downsides, and one big upside - I don't like big skins, and this one is gigantic. I don't care for ad skins, either. There is no shade mode, or even a scaled down version. One size fits all. But it has Lara Croft on it, so it gets 4 stars lol. This one will be nothing more than a novelty for me. - September 20, 2003 by Dante _
Cool Lara - I love the skin!!It's so cool, and lara is nice in it and it's the best skin I ever saw!;) - September 18, 2003 by L Bar
Lara Croft - this is a great skin! i love it since i love playing tomb raider! i gave it 5 stars b/c of the picture and the whole layout of the skin its really great!! look forward to seeing other lara croft and tomb raider skins in the future!!! - July 17, 2003 by Lizzie Bryant
Lara Forever - Lara un jour lara toujours! o comme c'est jolie! Vive lara et vive la france! Ya que des rosbifs ici? Dites les fezeurs de skin vous avez pas plus de Final Fantasy 7 et Resident Evil? pleaaase !! tankiou !!mdr - July 6, 2003 by Redfield Chris
I like the colours and... - The Colour scheme is nice, and so are Lara's ...... Ahem... That's probably why i like this skin so much ;) Although it's kinda rough around the edges. - June 30, 2003 by Patrick Taylor
1 - 12 - June 26, 2003 by allen liu
lara croft - its cool - June 18, 2003 by Tiffany Kang
V. Cool - I was very impressed by this skin, it looks very good against my desktop, and it has a cool 3D effect. Its also simple to use! - June 1, 2003 by Amy Garrard
8 - I like - May 17, 2003 by kite faris
so so - there's nothing much in this skin. the only thing likeable is lara's pic. - May 15, 2003 by zulfi haider
Cool as it should!!! - Pretty cool blue and grey color combination also the layout of the player very simple. - May 15, 2003 by Toby Cortes
I love you! - I thanke you for the wonderful art. - May 15, 2003 by john110 john110
Graphically Bodacious - Very nice skin. I love the extrusion of the..err uh, hand and gun. It adds a nice 3d effect. - May 14, 2003 by Bill Bixby
Tomb Raider Skin - Great skin,nice colour and shape,also will you make a pink panther skin for me please. - May 8, 2003 by Ali F
...... - ....her own....FACE?!?!?!?!? - May 6, 2003 by james handshoe
tombraider 5 - ok - May 4, 2003 by Kadir Karaka?
it's awsome!!!! - cool design and nice color giving it more life into it... hehehe nxt time make a superman blue emblem i like it very much... later - May 3, 2003 by ryelan villaflores
Pretty Cool - Not a bad skin at all thumbs up - April 28, 2003 by Luke McGuirk