>
Skins

>
Cool Devices
RazorEdge V1
Featured Skin, October 30, 2003.
Stereo-Lookin' Winamp3-Skin. -Clearly arranged MainDisplay-Contains Over 20 Color-Themes!
Download skin
| | | |
| --- | --- | --- |
| October 29, 2003 by Daniel Brittnacher | 121718 downloads | |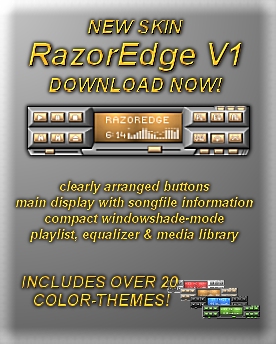 Staff review
Razor sharp skin.
Easy layout, easy to use. But what is that slider for on the equalizer that is labeled "Main"?
Comments
Nice and compact - Nice and compact, easy to use buttons, nothing fancy here, overall nice skin - July 15, 2005 by Wolf Bringer
Great Skin - This is a great skin it is very beautifully done, however i would like to see a windowshade on the playlist, like the Winamp Modern general skin, I would like to see the playlist be able to show just one song, this would be 5 stars to me if that one thing was done to it. - May 15, 2005 by Raymond Ludlum
Small, Simple, and Sweet - This skin is so sleek and functional that I use it on a regular basis. I wish I could say that about more skins. The really small windowshade mode is a bonus. Only a few complaints: I think it's silly to put a button just for color themes, right clicking the filename does not let me edit/view file info, and the "Edit ID3-Tagd" button does not work. - June 1, 2004 by Brady Kahn
COOOLLL - An incredible skin - January 27, 2004 by jose sanchez
Niiiiiiiiiiiiiiice - This skin is great, compact without being way too small (but has a winshade for those who want it smaller anyway), good color themes, and even a manual! Ooh, one small drawback: the preferences take forever to load. - December 14, 2003 by John Harag
This is so Perfect!!! - It got more over 20 colour theams COOL!!! - November 4, 2003 by Andrew Auluck
Tops - great cept the preferences takes 4eva good on ya dan! - November 1, 2003 by Dean Oliver
woow - This is.... i don't know. Perfect - October 26, 2003 by Marko Stepi?
I.C.E. - I like! :) just like my car stereo and now on my desktop! swey-eet! ;) - October 25, 2003 by Sims Wallace
Like a Music Station. - With this 'square' skin,we can open all the Winamp components and stick them together.It's like returning to Winamp 2. - October 24, 2003 by Bassam Elias